Here, past meets the present, yesteryear traditions meet modern day sensibilities, maestros of the past inspire future masterpieces, historical grandeur induces modern applauses. Rome is a city that has cocooned tradition, art, culture, religion, charm and architect of our bygone era's and evolved as the Eternal City, as it is often referred to. While a beauty and a melting pot of activity all throughout the year, Rome looks slightly more magical under the soft light of the spring sun of March. Here's our special guide to the places you should visit, things you should eat and the experiences you'll have while exploring Rome in March.
What makes Rome in March Special?
---
Best of both worlds: While winters in Rome are cold, summers see hordes of tourists, March strikes a balance between both worlds. The last of freezing winter gives the centre stage to the pleasant spring bite. Furthermore, Tourists in the eternal city are ironically eternal, though March attracts a smaller hoard than the usual; enabling you an overall better view and feel of the capital.
Sensory overload: Rome is a vision in March, the blooming of bright red poppies, deep purple wisteria, and lovely pink azaleas not only soothes your eyes, but you can literally smell the spring in air. The slight chill teases your appetite and allows you explore the hearty traditional food made with the freshest produce and best of ingredient.
Festivities: March witnesses commemoration of historic events such as Julius Caesar's death to contemporary events such as Festa della Donna to religious events such as Easter.
Rome Weather in March & What To Wear
---
A typical day in March can tip in any direction from pleasant to chilly to drizzly. On an average the temperature sticks around 9°C at the start of the month and raises 12°C by the end of March. Around 68 mm of rainfall is expected over 13 days.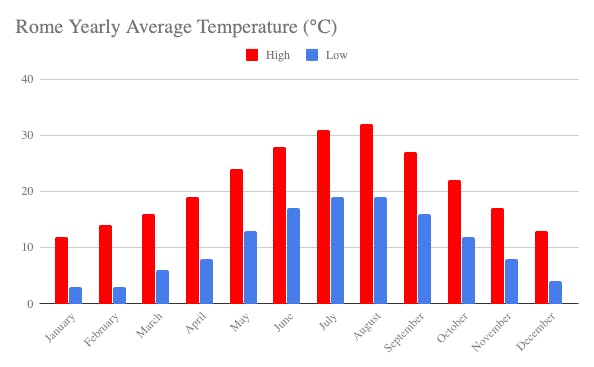 Rome in March : Things to do
---
Colosseum, Palatine Hill, Roman Forum
While Roman Forum lends an insight into the old world charm of Ancient Rome, the magnificence of the Colosseum, the world's largest amphitheatre and the views from the Palatine hills steals your breath. These majestic evidences of Rome's glorious past are marginally less crowded during March allowing better vantage points.

March Timings
8.30 AM to one hour before sunset (March 1 - 15 - 8:30 AM - 5:00 PM; March 16 - 31 - 8:30 AM - 5:30 PM )
The chapel were popes are chosen and crowned is equally famous for the frescoes that completely cover its walls and ceilings. Referred to as one of the greatest treasures of the Vatican City, it is home to awe-inspiring masterpieces created by notable artists like Michelangelo, Botticelli, Perugino and Luca.

March Timings
Monday to Saturday - 9:00 AM to 6:00 PM Last Sunday of the month - 9:00 AM to 2:30 PM, closed on all other Sundays.
From some of the most renowned Roman sculptures to the noteworthy masterpieces of Renaissance art, the Vatican Museum encapsulates the art and culture of Europe through the ages. The shoulder season of March enables you to explore one of the largest museums in the world at your own leisure.

March Timings
Monday to Saturday - 9:00 AM to 6:00 PM
Last Sunday of the month - 9:00 AM to 2:30 PM, closed on all other Sundays, Easter Sunday. .
St. Peter's BasilicaAn important pilgrimage site, St. Peter's Basilica is a striking example of Renaissance architecture and is regarded as the greatest building of its age. In March, you can experience the Easter Vigil Mass of holy Saturday and listen to the 'Urbi et Orbi' message delivered by the Pope.

March Timings
7:00 AM - 6:30 PM everyday
Piazza San Pietro, 00120 Città del Vaticano, Vatican City
Italy
Getting There ›
Trastevere Neighbourhood Walk
Regarded as Rome's most favorite neighbourhood, Trastevere is always hustling and bustling with locals and tourists alike. The cobblestone pavements, winding streets, and the unique architecture is best explored on foot, especially in the mild temperature of March. The interconnected streets offers amazing spots to unwind throughout the day.

March Timings
Open all day
Borghese Palace & Villa Borghese
The third largest public park in Rome, Villa Borghese is a perfect places to visit to soak up the March sun. Here one can enjoy nature's art and art created by man, as the Galleria Borghese museum houses paintings, sculptures, ancient mosaics and bas-reliefs from the the 15th to 19th century.

March Timings
Tuesday – Sunday: 8:30 AM – 7:30 PM
Monday: closed
Rome is best explored on foot and whether your inclinations is towards architecture, art or the food of the city, you can avail all this and more with a simple pass. The Walk On Walk Off Rome pass allows you to choose and cover upto 10 professionally guided tours.

March Timings
Flexible
The subterranean passageways that served as a burial ground for of Jewish, pagan and early Christian Roman citizens between the second to the fifth century, bears great significance historically, religiously and art wise as well. Out of nearly 40 Catacombs under Rome, only five are open to the public.

March Timings 9:00 AM to 12:00 Noon, 2:00 AM to 5:00 PM
The closing day for each of 5 catacombs open to public differs, refer here.
The eternal city is eternally rich food wise as well, traditional and modern culinary talent amalgamate to present mouth watering and soul pleasing options. The Rome Food Tour, offers an vast array of options that will allow you explore Rome and its magnificent attractions with a culinary point of view.

March Timings
According to the tour chosen
Europe's most famous coastlines, the countryside at Amalfi represents nature at its best. The breathtaking congregation of land, sea and sky is listed as a UNESCO World Heritage Site. These seaside towns are a treat for all your senses with picturesque beauty, fresh sea breeze and lip smacking food.

March Timings
Daily at 7:30 AM to 8:00 PM
Rome in March — Events to look out for
--- Festa della Donna
When: 8th March
Every year on the International Women's Day Rome celebrates the festival of women, wherein men traditionally give yellow mimosa flowers to the ladies and take care of the household chores. Various events are organised across the city to honor womanhood. Festa of Santa Francesca Romana
When: 9th March
Held between 25th September to 25th November, this uniquely scenic annual festival sees Roman Catholic drivers cruising their cars and mopeds to the Monastero Oblate de Santa Francesca Romana to receive blessings by Saint Frances of Rome the patron saint of drivers. Commemoration of Julius Caesar's Death
When: 15th March
On the Ides of March, an annual fest is organised to commemorate Julius Caesar's Death. A number of cultural events including a re-enactment of his assassination, are held at Torre Argentina within the Roman Forum. St. Patrick's Day in Rome
When: 17th March
The Irish community of Rome celebrates the Saint Patrick's Day with all the fanfare, starting off with the annual mass. The Colosseum is bathed in green lights to honour Ireland's patron saint while special events are hosted across the city. . Easter Sunday
A festive environment comparable to christmas is observed over Easter in Rome. The Pope leads the Easter mass at St. Peter's Square and at noon he delivers the famous 'Urbi et Orbi' message from the central balcony of St. Peter's Basilica. Rome Marathon
The Maratona di Roma, is an annual event that invite runners from around the world to tread across some of most famous sites of the city including the Vatican, starting from the Roman Forum and ending at Colosseum. .
Rome in March : 5-day Itinerary
---
Need help planning your Rome vacation? Check out our detailed Rome itineraries here.
5 Days In Rome Itinerary
Morning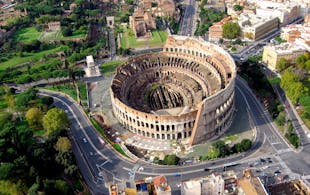 Afternoon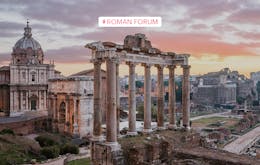 Roman Forum & Palatine Hill
Late Evening Morning
St. Peter's Basilica & Vatican Necropolis
Noon Afternoon Morning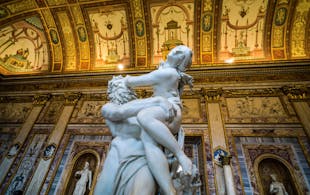 Afternoon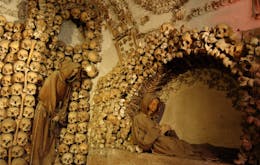 Late Evening Basilica di San Clemente al Laterano
€10
Day Trip Option #1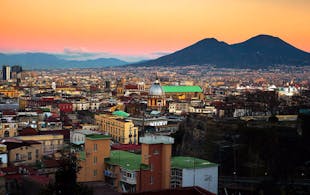 Day Trip Option #2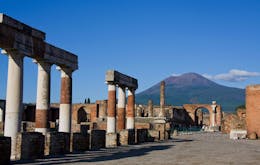 Day Trip Option #3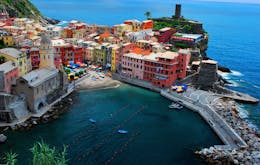 Morning Afternoon Evening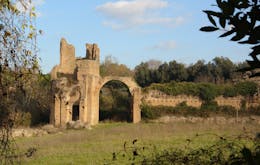 Where to eat while visiting Rome in March?
---
Suppli
A roman street favorite, a deep fried risotto ball is filled with combinations of meat, tomato sauce, and cheese. This handy street food has gone through much variation, with both the traditional and the modern versions being extremely popular among the locals and the tourists, especially on the streets of Trastevere. Where to eat: I Supplì, La Casa del Supplì
Carciofo alla Romana
A seasonal appetizer, that will only be on the menu in the spring and fall. One of the most famous artichoke dishes of the Roman cuisine, it is prepared by stuffing artichokes with garlic and wild mint. They are braised in olive oil and white wine until they acquire a melt in your mouth buttery texture. Where to eat: Hosteria Romana, Piperno Gelato
There's something about eating an ice cream during the termination of winters. Given the impeccable knack that Romans have for Gelato, it is a must try. Try some classical flavors like pistachio or strawberry or some uniquely creative ones like salted caramel, tomato and basil or even champagne. Where to eat: Fata Morgana, Gelateriadei Gracchi, La Romana Vignarola
A famous Italian spring vegetable stew that is made from the season's favorites fava beans, artichoke, asparagus and peas. Full of hearty flavours certainly suitable for a chilly March night meal or for a rainy afternoon lunch date, it is traditionally eaten with bread and an assortment of cheeses. Where to eat: Armando - Al Pantheon, Trattoria Perilli Abbacchio
The best time for to savor the culinary delight of roast lamb in Rome is Spring i.e. March, April & May. Often serves with variety of seasonal vegetables, some classic Abbacchio dishes are Abbacchio alla Romana, Abbacchio alla scottadito di Roma and abbacchio alla cacciatora are the classics. Where to eat: Checchino dal 1887, Palatium Enoteca Regionale
Rome Essentials
---
Rome's Weather in March
The winter starts to recede as March marks the arrival of spring in Rome. Although not completely transformed the air is still chilly the average temperature at the start of the month is 9°C and rises upto 12°C by the end, with rainfall spread over 13 days of the month.
Where to Stay in Rome during March
A tourist destination as popular as Rome ought to have multitude of options that ranges from uber luxurious to economical abodes. Visitors can choose from an array of hotels, hostels, and apartments.
Luxury Hotels - Hotel Hassler, Villa Spalletti Trivelli, The Westin Excelsior, Grand Hotel Parco Dei Principi, Portrait Suites
Budget Hotels - Cosmopolita Hotel, Welcome Piram Hotel, Hotel Campo de' Fiori, Inn at the Roman Forum
Budget - Hotel Grifo, Nerva Accomodation, Hotel Santa Maria, Hotel Central Lodge, Vatican Skyline
What to Pack for Visiting Rome in March
March in Rome can plays tricks with the sun, rain and cold winds. Do take a rain hat, a waterproof jacket that can double as a windcheater, an umbrella, comfortable shoes for the long explorative walks, a warm scarf, a warm cardigan for chilly nights, jeans or other heavy cotton pants, some light and some medium weight tops to layer up or down according to the temperature.
Getting Around Rome in March
Rome has a well connected public transport system. The two Metro routes Linea A and Linea B can assist you to reach most major attractions around the Vatican City and Colosseum. Bus service is far more interconnected and can take you close to almost every attraction. An active night bus network makes late night commute more accessible.
Travel passes and transport tickets can be purchased as per your stay to avail unlimited access to most public transport within the city for the said duration. Rental bikes and scooters are available for the more free-spirited kinds.
Tips for Visiting Rome in March
---
When in Rome: Do as the Romans do, the citizens of the capital have to deal with hordes of tourists on a regular basis. While you are on holiday they need to perform their set of daily responsibilities, be courteous and avoid causing hindrance, especially when you are commuting via public transport.

Religious sentiments: A page from the aforementioned book, locals will step out for festivities like Easter and the Saint Patrick's Day. Accommodate their need to observe their rituals, their way.
Layering: The temperatures can fluctuate during March, plan you clothes and accessories accordingly. Best option is to opt for layering pieces that can be removed when temperature rises and added when it slope down.
Hydration: The attractions at Rome in their grandeur will push you to walk and have you tired. March sees about eight hours of sunshine each day, to make the most of your trip, keep yourself well fed and well hydrated.
Plan thoroughly: Being a shoulder season, March will enable you to save on flights and hotels. To further multiply your savings, plan your trip a little more meticulously. Note the state sites and museum like Colosseum, Palatine Hill, Roman Forum, Galleria Borghese, Palazzo Barberini still see crowds, so purchasing tickets online can help save time and a few bucks.
Explore Rome by Months
---
Ready to Visit Rome in March?
---
Here are some quick links to articles that will make your Roma vacation all the more special !