Serving as the capital of the Czech Republic, Prague is a historic city where the modern and medieval coexist. Cobbled lanes, high walled courtyards, and tall church spires dominate this majestic city that is almost undamaged by the World War II days. The fusion of old and new sets off beautifully in Prague as it's a cultural hub that accommodates and encourages art, live music, fine dining and cultural experiences which make for a great holiday. March is a beautiful time to visit Prague as the chills of winter are just beginning to fade away, and you can welcome spring with open arms!
Why is Prague in March a must-visit?
---
Cool and pleasant weather : Prague in March is quite cold but offers a wonderful opportunity to take in the sights and sounds of classic European setting. Visit in March to get a feel of fading winters and sip plenty of the famous Czech soups that will keep you warm and happy in this pretty city.
Fewer crowds : Prague in March would be far from the tourist madness that is characteristic of European summer and offers a brilliant excuse to explore the most popular tourist destinations at a leisurely pace.
Lots of exciting events : With plenty of film festivals, dance performances and music concerts, the cultural scene of Prague in March is set to be a hubbub of activities. Take your pick among Shockproof Film Festival, Miss and Mister Music festival, Bazaar Festival, or Fun Fatale, and you'll be cherishing the happy high for a while.
Prague Weather in March
---
Prague sees the end of winter in March, and the weather takes a gradual turn towards spring. Days are usually chilly here, but there's a lot of variation in the climate: some days are sunny with clear skies but even cloudy days and slight rain is a possibility. On the whole, it's chilly and makes for a pleasant experience.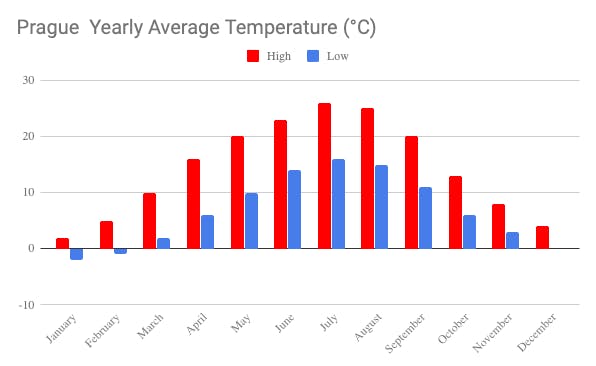 Prague in March : Things to do
---
One of the most important National Cultural monument of the Czech Republic, the Prague Castle has a rich and interesting history. It serves as the seat of the Czech president and is home to many priceless art relics, historical documents, and the Czech Crown Jewels, that are open to public viewing.
March Timings
Prague Castle Complex: 6:00 AM – 10:00 PM
Historical Buildings: 9:00 AM – 4:00 PM
The awe-inspiring St. Vitus Cathedral is famous for being privy to several religious services and coronations of Czech kings and queens. Besides being the largest and most important church in Prague, it also serves as a burial ground for archbishops and saints, and is a prominent example of Gothic architecture.
March Timings
Monday – Saturday: 9:00 AM – 4:00 PM
Sunday: 12:00 PM – 4:00 PM
Great Tower of St. Vitus Cathedral : 10:00 AM – 5:00 PM
The National Theatre or Národní divadlo is an integral part of the Czech cultural stage. With a heritage of 130 years, it has been instrumental in providing space for free artistic creation. You can watch several dramas and operas that are scheduled for March and revel in the history of Prague.
March Timings
Guided Tours take place on Saturday and Sunday between 08:30 AM and 11:30 PM
If you're in the mood for some relaxation, then the Vltava River Cruise allows one to enjoy the perfect combination of luxury and rejuvenation. The Vltava River takes you through 18 under bridges and the iconic Charles Bridge which is a sight to behold. Choose a cruise with food and drinks, and you're set for a good time.
March Timings
Timings vary according to the chosen cruise
Prague Astronomical Clock
Witness the oldest mechanical clock still in operation in Prague! The Astronomical clock has features that include the Old Czech Calendar, Zodiac signs, the transition of the sun and moon, and is decorated by the 12 apostles and other statues. The gilded clocks are beautiful and a mechanical marvel!
March Timings
Daily: 9:00 AM – 11:00 PM
The Dancing House is a unique structure that follows the deconstructivist architecture and was inspired by the dance duo of Fred Astaire and Ginger Rogers. It houses a restaurant on the uppermost floor which offers a panoramic view of Prague. There's a Gallery on the ground floor that has plenty of Czech art on display.
March Timings
Daily: 10:00 AM – 10:00 PM
Old Town and Jewish Quarter
Located between the Charles Bridge and Wenceslas Square, there are several heritage structures in the Old Town area while the Jewish Quarters is infamous given the history of the place. Explore these areas on foot with a walking tour, and relive the historic days of Czech Republic.
March Timings
Tour starts daily at 11:00 AM
Tipple With a Legendary Beer Tour of Prague
Come aboard an exciting beer tour in Prague to dispel the chill of March by guzzling down some celebrated beers of the city and end with a sumptuous dinner. Besides exploring various pub fronts, the tour gives you the chance to make new friends and takes you to pubs that were frequented by iconic US presidents.
March Timings
Tour starts daily at 6:00 PM
A day trip to Terezin Concentration Camp
Terezin Concentration Camp was among the largest prisons used by the Nazis in World War II and has a dark and terrifying past. A trip here will be an educational experience as it takes you down a horrifying memory lane which unfortunately is a sad reality.
March Timings
Tours go on daily from 8:00 AM – 4:30 PM
St. Nicholas Church features a famous and valuable Baroque architecture replete with a dome. The intriguing artwork surrounding the church can enchant many. If you're visiting the church in March, then you're in luck as you can attend quite a few concerts too!
March Timings
November - January : Daily, 9:00 AM - 4:00 PM
February - Friday to Sunday 9:00 AM - 5:00 PM, Other days : 9:00 AM - 5:00 PM
March - October : Daily, 9:00 AM - 5:00 PM
Prague in March : Events to Look Out For
--- One World Film Festival
March 6th to 19th
One World International Human Rights Documentary Film Festival is an annual event held in Prague and 35 other cities that showcases quality films on human rights, social, political, media and environmental issues. The 21st edition of the festival is focussed on the theme: safe proximity and there will be panel discussions as well. Young Bohemia Prague Festival
March 21st to 24th, 2019
A diverse event for people aged between 8-26 years, The Young Bohemia Prague Festival is a cultural event that provides a big platform to showcase talent in music and choir singing. The event welcomes people across the world and is an excellent opportunity to network and make new friends. St Patrick's Day in Prague
March 17th
St Patrick's Day is a huge event in downtown Prague which boasts of many Irish joints. You can groove to live music in the pubs and even dance to the tunes of the Irish folk songs. Prague International Film Festival
March 21st - 29th
The 26th Prague International Film Festival sees renowned directors and actors across the globe bring top-notch films closer to the audience. While the guest lineup is still under wraps, this promises to be a fun event if you're an admirer of excellent cinema.
Prague in March : 3-day Itinerary
---
Prague Essentials
---
Prague Weather in March
In March, the weather of Prague sees a transition from winter to spring but the temperature is slow to rise and hence the environment is predominantly cold with up to 6 hours of sunshine in a day. The temperature reaches a high of 10° C while it can go as low as 2°. in the night.
Where to Stay in Prague in March
Prague sees visitors from across the world and caters to a wide range of hotels depending on different budgets. Some of the popular properties here include the following:
4 & 5 Star hotels: Questenberk hotel, Four Seasons Hotel Prague, Le Palais Art Hotel Prague, InterContinental Prague
Budget hotels: Hotel Atlantic Prague, Botel Albatros Prague, Hotel Mala Strana, Blue Oak Prague
Backpacker hostels: Hostel One Miru Prague, Hostel Prague Tyn, Sophie's Hostel, Mosaic House Hostel
What to Pack for Prague in March
Prague in March can be surprisingly hard to pack for - one day you're warm and cozy and the next, you'll be freezing in the cold. Hence, it's a good idea to pack plenty of layers for your trip here. So keep shirts, sweaters, jackets, coats, gloves, a scarf, and a hat, and you're all set for some fun in the medieval city. It's also a great idea to pair your outfits with matching boots to remain warm and comfortable.
Getting Around in Prague in March
Prague has a well-connected public transport system and is used by the majority of the population here. With the convenience of the metro, you won't have to worry about getting stuck in traffic jams and traveling by road. If you're going to be sightseeing across the city, then you should look at getting a day pass, and you can alternate between trams, metros, and buses. Buses aren't all that useful within the city, but they offer excellent connectivity to the airport. If you end up having to take a taxi, then avoid hailing it from the roads and instead pre-book it!
Prague in March - Must Try Delicasies
---
Czech cuisine is famous for being exotic but healthy, and there's no dearth of restaurants to sample this fare. Presenting some of the top dishes for you to try when visiting Prague: Steak Tartare
Often referred to as the King of snacks, Steak Tartare comprises beef taken from dry-aged Czech cows that is premixed with onions, oil, cream, and fried capers. Visit Cestr and have your meal served with a sous-vide cooked quail egg and lightly roasted bread with a glass of wine! Kulajda
Kulajda is a traditional Czech potato soup that also has mushrooms, dill, vinegar and a poached egg on top. There are different variations of the soup at various hotels, but you can head over to the Imperial Cafe for a nice steaming bowl of soup that will keep the chills away.
Svickova
Svickova is a classic Czech dish that is a family affair, eaten on Sunday lunches or at weddings. It's typically a sirloin steak that's spiced with peppers, cooked with vegetables, and boiled with double cream. Usually served with bread dumplings, you can visit Na Pekarne for an amazing Svickova. Schnitzel
The schnitzel comprises tenderised meat, usually pork or veal, that is breaded and fried in butter. Highly addictive and tasty, salads with potato base are the perfect accompaniment to schnitzels. You can enjoy a classic schnitzel at Cafe Savoy. Goulash
The Goulash is a thick stew of meat that is spiced with paprika and served with dumplings. The Czechs like their beef and you'll see variations of Goulash across the town. Visit Mincovna in the Old Town Square and have the perfect Goulash served with fresh pilsner - the ideal way to end an exciting day.
Tips for Visiting Prague in March
---
Keep an umbrella handy: Prague has some unpredictable weather in March, and it may leave you feeling confused about what to pack. Given the chill temperature, there's a possibility that it might rain. So keep your umbrella handy!
Layer your clothes: While the chill weather of Prague in March can give way to a few sunny days, we recommend dressing up in layers with extra jackets, stoles, and scarves, so you're never too cold or too warm for the city! Also, a great idea to keep comfortable shoes in case you'd like to go for long walks in the cold.
Explore leisurely: Given that it's off-season for tourists, the common tourism hotspots may not be as crowded, giving you time to explore the different vistas as a leisurely pace.
Ready to Visit Prague in March?
---
Here are some detailed blogs that will help you plan your Prague vacation better.