Be it an international tour, a domestic vacation, or a cross-state road trip, there are certain essentials that you have to carry with you. More often than not, in the excitement of the upcoming adventure, we lose track of what we need to pack for the vacation and end up missing quite a few important everyday items. These items could be as simple as a toothbrush or as significant as an important medicine, ultimately proving detrimental for your well-planned leisurely escape. This takes even higher precedence in a world that is just starting to gradually recover from the effects of the Covid pandemic.
Fret not, we've got you covered. We've done the hard work for you and created a comprehensive international travel packing checklist that covers everything from basic travel essentials to a list of toiletries, and much more. With this checklist to ease your packing, you only have to focus on one thing; enjoying your vacation.
Pre-Travel Packing Essentials: Things You Need to do Before Your Trip
--- Traveling is an escape from monotony and it can only be truly enjoyed if your mind is at ease. The most effective way to do this by curating a 'things to do' list a few months before your trip so that you have ample time to chart down every task and responsibility you have to deal with before your vacation. There are two broad categories of things that everyone has to complete before going on a trip; work commitments and things to pack for your trip.
Here are some of the most important tasks you need to take care of before going on any vacation:
Up to 3 months before your trip
Check your flight tickets, re-confirm the dates and timings
Check your passport validity and requirements
If you're going on an international trip, research the visa requirements and start an application, if needed.
Create an elaborate budget and start saving for your trip
Do a routine health checkup with your physician and dentist
1-2 months before your trip
Finalize your travel itinerary and accommodation
Start buying the necessary items in the packing list (below)
Try and learn a bit of the local language, if you're going out of the country
Get a few copies of your travel documents and other paperwork
Purchase travel insurance
Post-Covid Packing Checklist - How to Ensure Your Safety at Airports, Public Spaces
---
Here's our downloadable post-Covid travel packing checklist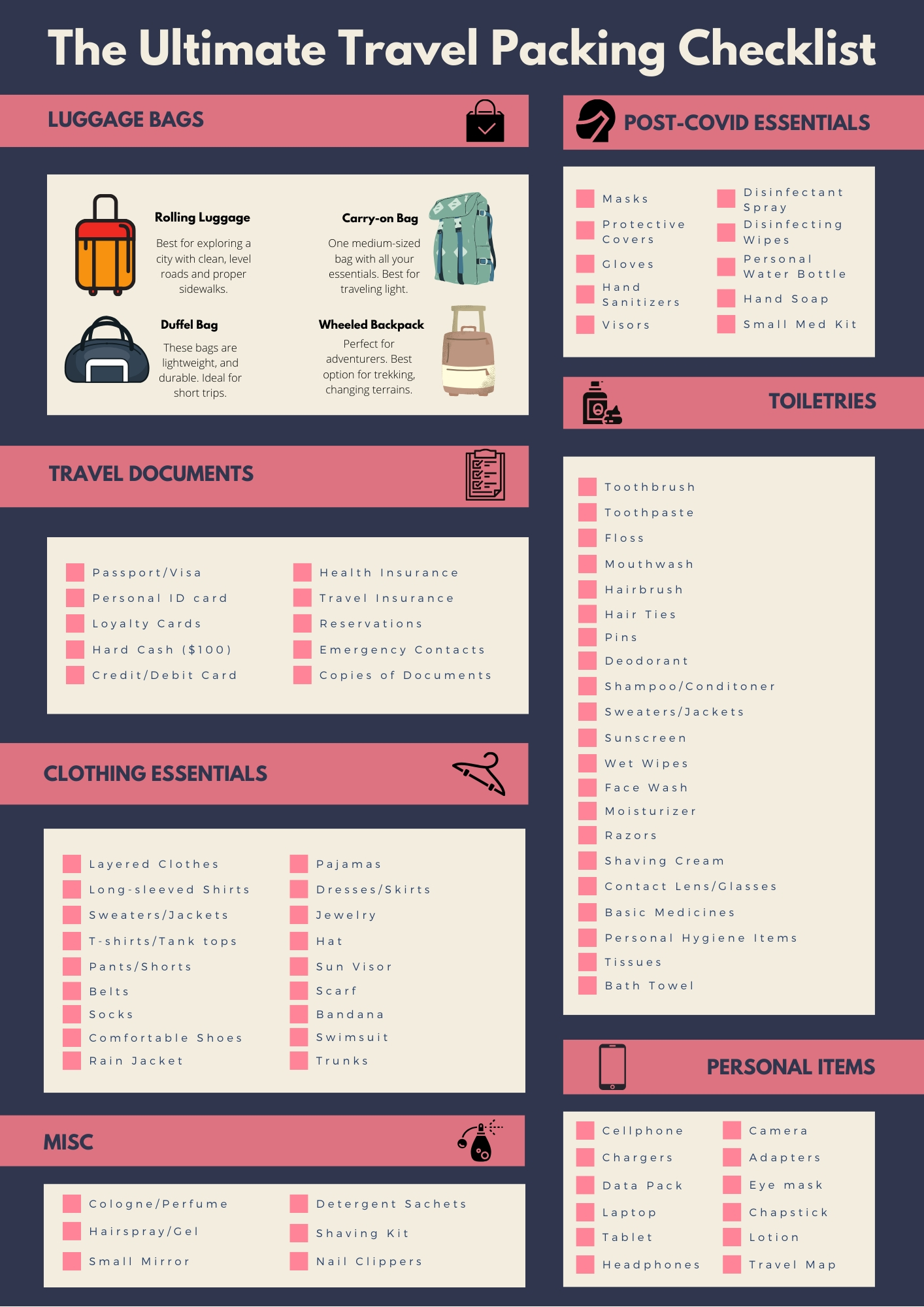 The novel coronavirus has had a detrimental effect on not just the world economy, but on us as humans. It is now imperative that we follow certain protocols to stop the spread of the pandemic and protect ourselves and our families from the disease. Keeping this in mind, here is a checklist of items that you need to carry to tackle the pandemic and have a good time: Protective Gear
Masks covering nose and mouth
Protective cases
Visors
Gloves
WHY: Wearing a mask is the most effective way to stop the spread of coronavirus. Most countries around the world have already made it mandatory to wear masks in all public spaces, but you need to make sure you pack at least a pair of gloves as well. When you board a flight, it's advised that you wear protective visors as an additional security measure. COVID can spread through touch easily and it's better to leave no stone unturned.
Gloves that are washable and N95 masks are our recommended post-CoVID travel essentials. Safety Precautions
Hand sanitizers & disinfecting wipes
Personal water bottle
Travel-sized disinfectant spray
Hand Soap
WHY: Carrying a travel-sized sanitizer and some disinfecting wipes for commonly touched surfaces like doorknobs, handles, chairs, and buttons will a long way in protecting you and your family. Makes sure you either wash your hands with soap or using a hand sanitizer after using a public doorknob or any other frequently used equipment.
A reusable water bottle will ensure that you don't come in extended contact with any external bodies that could have made its way through between production and retail.
The Ultimate Traveling Checklist: Everything You Need to Pack for Your Trip
---
Luggage Bags
The first step in your packing itinerary should be choosing the right luggage back to suit your trip. It's imperative that you find a travel bag that will fit all your stuff and be easy to carry around. Factor in the length of your trip; if it's an international vacation, a hiking trip or a business vacation, and choose your bag accordingly. Here are some recommendations: Rolling Luggage
If you're going to be traveling in a city with clean, new roads and proper sidewalks, this is your best option. Packing a duffel bag or a backpack does not make sense as you won't be required to carry the weight on your shoulders when you have a bag with wheels and a path to use it on. Wheeled Backpack
This option is for the adventurers. If your trip is going to include constantly changing terrains, waterways and/or cobbled streets, having a bag with the ability to roll or carry it like a backpack or duffel can come in handy. Carry-On
Arguably the best option in the bunch is traveling light and enjoying a relaxing vacation. This effectively means that you carry one medium-sized bag with all your essentials. Make sure you don't miss out on your crucial necessities like medicines while packing light. Duffel Bag
If you're on a short or domestic trip, this is your best option. These bags are lightweight, durable, and easy to carry. You can sling it over your shoulder, hold it in your hands or even carry it like a normal backpack, making it an extremely versatile option.
PRO TIP: If you hate airport waiting lines and long drawn out security checks, the best option is to carry a medium-sized backpack. It will save you a considerable amount of time on multiple occasions, not just because you only have one bag to navigate, but also because you're effectively traveling light.
What to Include In Your Med Kit
Analgesic (pain relief) medicine/Aspirin
Antihistamine tablets for bites, stings or allergies
Cold and flu tablets
Cough medicine
Motion sickness tablets
Throat lozenges or drops
Antiseptic solution for cleaning wounds
Antiseptic ointment to apply to a wound
Bandaids
Insect repellent
Diarrhoea medicine
Antacid
Antifungal or antibacterial cream
ORS sachets
Regular prescription medicines
Travel Documents This is the most important document checklist that you will need to adhere to. Ensure that you have all the travel documents on you wherever you go. Keep your passport handy for security checks and whenever possible, try to carry a printed copy of your ticket to ensure a smooth vacation.
Passport/Visas
Personal ID/Student ID card
Loyalty Program cards, if any
Hard cash, at least a $100
International Credit/Debit cards
Health insurance cards/documents
Travel insurance information
Reservations and itineraries
Emergency contacts list (keep this in your wallet/purse)
Copies of all documents in case you lose your wallet
Clothing Essentials For the best travel experience, you need to dress according to the climate, terrain, and temperature of the place rather than dressing fancy or sophisticated. This means you need to pack smart and choose clothes that can be used on more than one occasion. Having said that, some clothes are necessary irrespective of wherever you're going. Clothes like shorts, slacks, sneakers, and sweatshirts are always good to have on any trip.
Layered Clothes
Long-sleeved shirts
Sweaters or fleece jacket
T-shirts and tank tops (Remember to respect the culture of the country you're visiting)
Pants and shorts
Belts
Socks (woolen socks for hiking and camping)
Comfortable shoes
Rain jacket or umbrella
Pajamas/sleepwear
Innerwears
Dresses and skirts
Sunglasses
Scarf or bandana
Swimsuit or swim trunks
PRO TIP: Packing a lot of unnecessary clothes is a common mistake made by a lot of people. Be smart and carry only 2-3 types of clothes or clothes for a specific occasion; don't stack your bag with avoidable clothes as it increases your luggage weight dramatically.
Electronic Items In an increasingly digital world, it is important that you do not forget your personal digital devices or their chargers. More often than not, most of your tickets and credit card transactions are on your phone and you do not want to make the mistake of not packing your phone's charger and being stranded in an unfamiliar place. Here is a list of digital devices and some miscellaneous items that you need to carry:
Cellphone
Charger
Travel speakers
Travel pillow
Eye mask
Ear-plugs
Electric converters
Universal Adapter
Power banks
Toiletries Your toiletry packing list is probably the most important on the list because these are personal items and play a huge role in your health and hygiene. Ensure that liquids, gels, and creams are less than 100ml per container as most airports flag them if they are over 100ml. Try to use a clear plastic bag to pack your essentials as it will make it easier for you to find what you're looking for, and at airports in case, your bag gets flagged.
Toothbrush
Toothpaste
Floss
Mouthwash
Hairbrush
Hair ties
Pins
Deodorant
Shampoo and conditioner
Sunscreen and face lotion with SPF
Wet wipes/ Tissues
Face wash
Makeup remover
Moisturizer/Lotion
Lip balms/Lipsticks/Lip Gloss
Essential basic medicines
Razors
Personal hygiene items
If you use a contact lens: extra contacts, solution, and contact case
Power glasses/Sunglasses
PRO TIP: While packing your toiletry bag, ensure that it is airport friendly, especially if you are planning to keep it in your carry-on backpack. Some items such as scissors and tongs can sometimes be flagged at airports and it is advised that you do not carry these items on you; drop them in your check-in luggage bag.
Miscellaneous
Cologne/perfume
Small mirror
Hairspray
Hair gel
Small sachets of detergent
Shaving kit
Small stain remover
Travel Towel
Nail clippers
Tweezers
Personal Items
Network hotspot / international data pack
Laptop
Tablet + Charger
Headphones
Camera and/or video camera + memory card, chargers
A small book and a pen for emergencies
A couple of books/magazines
Chapstick
Lotion
Travel guides, maps - printed or on your phone
Here's our downloadable post-Covid travel packing checklist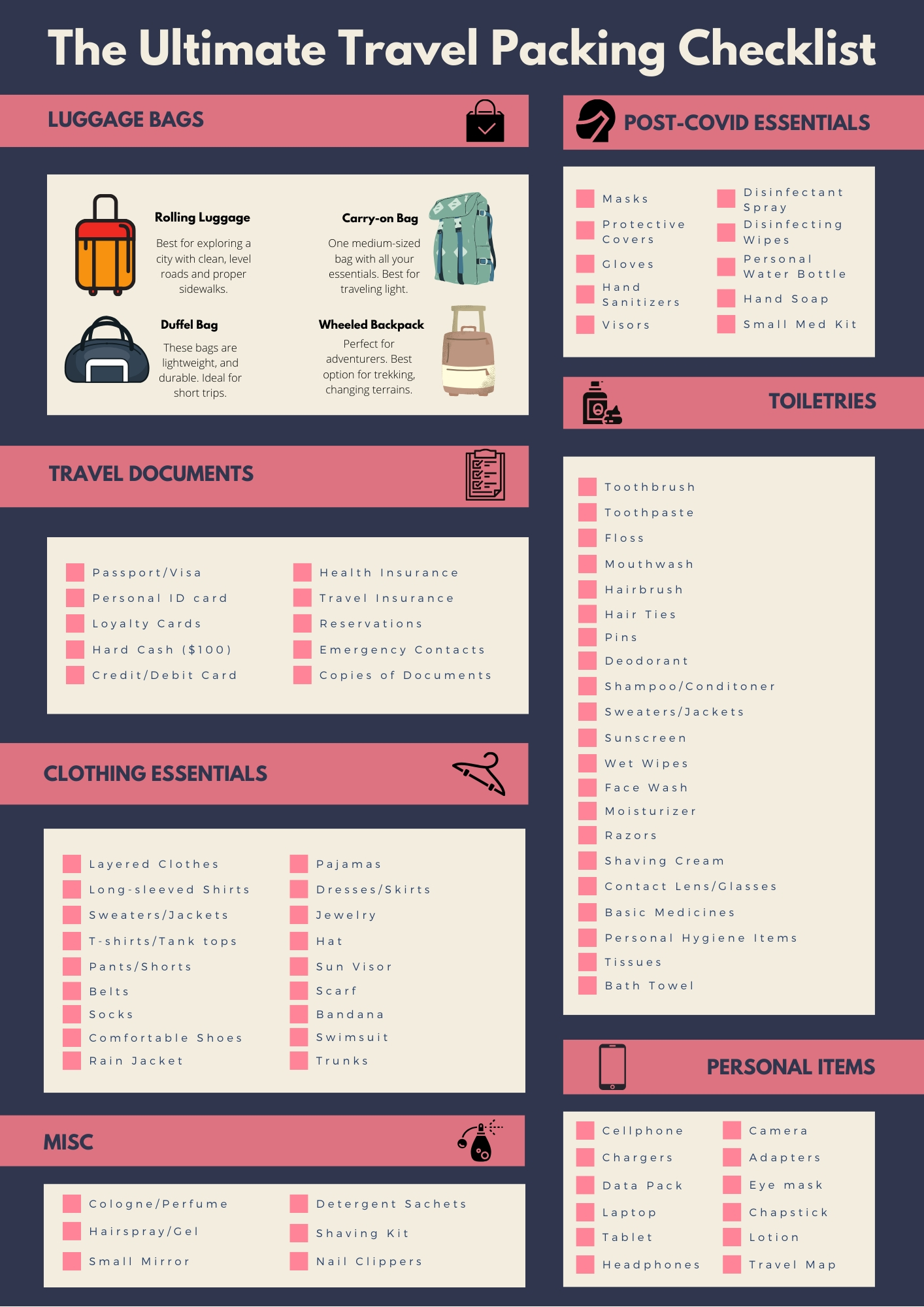 Things to Keep in Mind While Traveling Post-Covid
--- Traveling on a Flight
While traveling on a flight, in addition to your mask, you'll be required to wear a protective visor over your face. Even if this is not mandatory, it is strongly recommended that you follow the practice for your safety. Wearing full-sleeves and gloves can also go a long way in reducing the chances of getting an infection. Travel Etiquette
Social and physical distancing is the new normal now. At all times, ensure that you are standing at least 3-6 feet away from others, even if they are in protective gear. Practice hygiene measures sneezing or coughing into your elbow. Clean surfaces you use with alcohol wipes, and sanitize your hands thoroughly after contact with any public surfaces. Travel Insurance
Travel insurance is an absolute priority now and you should definitely consider getting one every time you travel. Make sure your travel insurance covers emergency medical aid or evacuation and most visas make it mandatory too. Given the current state of the pandemic, this would ensure that you do not go bankrupt if you ever fall sick on one of your trips. Visit Fewer Places for Shorter Durations
It is recommended that you do not visit multiple places at a time. The new normal is the perfect opportunity for you to slow down and get engaged with the culture of the place you visit. Furthermore, visiting a large number of places will lead to a lot more transits, travel advisories, precautions, and flights, which is not advisable at all.
FAQs
---
What precautions should you take while traveling during the Coronavirus pandemic?
Is it mandatory to wear masks and gloves at airports while traveling?
Will you have to go under quarantine after de-boarding from my flight?
Should you avoid traveling internationally?
Can boarding an airplane or cruise ship/yacht increase your chances of falling sick?
Can you reschedule or refund a ticket if you had purchased a non-refundable airfare ticket during the Covid-19 crisis?

You may also like: