Paris in February offers a setting worthy of a whirlwind romance! The chill and brisk winds with looming grey clouds freeze not only the waters of the Seine but the entire city in time. The enduring quality of Paris with its stunning architecture makes for a pretty picture and February a unique time to visit the city. Wrap yourself in a warm coat and enjoy the indoor museums and theatres, and end the day near the toasty fireplaces of Parisian cafes and restaurants! Paris in February is not a compromise but a delight, for those seeking unique adventures and spellbinding perspectives.
What makes Paris in February a must-visit?
---
Cozy winter weather - February sees the last of winter weather and yet is manageable with the right clothing. You can still ice-skate in the open and snuggle up in Parisian cafes with hot coffee.
Fewer tourists - Paris in February allows you to be a traveler versus a tourist. You can sample the local culture better because there are fewer tourists and you can experience things like a local!
Shorter queues - Paris has a ton of indoor activities like museums, concerts, cabarets etc. They are not affected by the weather but fewer tourists essentially mean shorter queues everywhere and more space for you to relax and explore in peace.
Great sales and deals on everything - You can enjoy the end of the winter sales when all stores are offering discounts. Plus, everything from hotels to airfares is discounted during the off season.
Paris in February: Weather
---
Paris in February is cold and bears the end of the winter. There isn't a lot of snow or rain but you can expect a downpour or slushy snow once in a while. The temperature averages around 8°C during the day and 3°C in the night with lows reaching up to -3°C. You will not experience many sunny days during the month. The sun sets around 5.45 PM in the first half of February, ending around 6:30 PM at the end of the month.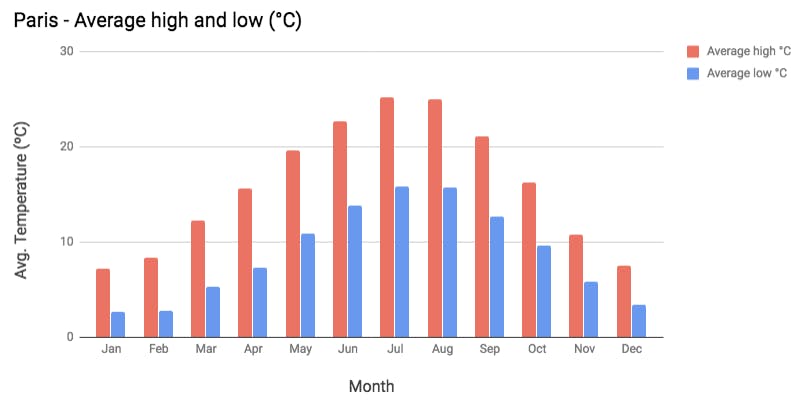 Paris in February: Things to do
---
The Eiffel Tower is an evergreen landmark in Paris that is a must-visit in any season. It's the spectacular views from the top that keep changing. In February, the grey weather accentuates the timelessness of Paris and turns it into a winter wonderland. Plus, the shorter queues and lesser crowds offer a more relaxed visit.
February Timings
9:30 AM - 11:45 PM, with the last elevator ascending at 10:30 PM
Louvre Museum - Archaeology Goes Graphic Exhibition
Certainly, one must pay their respects to Mona Lisa on a visit to Paris! The Louvre is the home of the famed painting and 7,500 other paintings, which make it the world's largest art museum. The temporary exhibition of 'Archaeology Goes Graphic' is a great meeting of the field of archaeology and comic art is running till July 1st, 2019.
February Timings
9:00 AM - 6:00 PM. Refer here for daily timings
Serenade your partner and enjoy the banks of the Seine, a UNESCO World Heritage Site, on this incredible dinner cruise. The heated batobus will keep you cozy for the entire 1.15-hour long cruise and the 3-course dinner with a glass of wine; will keep you wishing the cruise never ends.
The visual of the French-Gothic architecture of the Notre Dame Cathedral in the wintry light of February takes you back in time to the medieval ages. One of the most famous attractions in Paris, it is always a great time to visit this church especially with fewer crowds, giving you more time to stand in admiration.
February Timings
7:45 AM - 6:45 PM.
Moulin Rouge Show with Champagne
Paris is February can be intimidating at times and its best to enjoy the city indoors. Without compromising on the fun and glamour, buy a ticket to the best cabaret in town – The Moulin Rouge, and enjoy a scintillating evening in the company of beautiful dancers and talented artists.
Art meets architecture in Europe's largest museum collection of modern and contemporary art – Centre Pompidou. The building that holds the art is an attraction in itself and is a remarkable example of the 21st-century architecture. The museum holds six permanent exhibitions and temporary exhibitions and art projects such as the Cubism Exhibition.
February Timings
11:00 AM - 9:00 PM
More people visited the Palace of Versailles than the Eiffel Tower in 2017! The Royal Palace of the French Monarchy, it is also a UNESCO World Heritage Site. While you may not see the Gardens in all their splendor, the bare stillness of the estate contrasts with the riches inside the Palace, creating a mystical aura that is hard to find rest of the year!
February Timings
9:00 AM - 6:30 PM
The Opera Garnier, also known as the Palais Garnier, is the home of the Paris Opera. Opened in 1875, the 1900 seater theatre hosts ballets even today. For those on budget and hard pressed on time, a guided tour of the Opera Garnier is the best way to explore this building. It is a perfect indoor activity for those dreary days of February.
February Timings
10:00 AM - 4:30 PM
Paris in February: Events to Look Out For
--- VALENTINE'S DAY CELEBRATIONS
14 February
What better way to spend Valentine's Day than in the 'City of Love'? Paris is a lover's paradise; the city establishments run special offers and events for couples exclusively on February 14th every year. Choose from a luxurious dinner atop the Eiffel Tower, or a romantic dinner cruise on the Seine. The Paris Ballet and Cabarets put up special shows in February, and if not entertainment, choose to enjoy a special dinner at the many cafes and restaurants. CONCERTS IN FEBRUARY
All Month
February is the concert season in Paris and every weekend, if not every day, there is a concert or two, playing at the venues in Paris. Some of the most popular ones this year are Sunday Morning Concerts at Theatre Des Champs-Elysees (Feb 3, 10, 17, 24), Swan Lake at Palais de Congres (Feb 6,10), Organ Recital at Notre Dame Cathedral (Feb 5), Vivaldi's Four Seasons at La Madeleine Church (Feb 8, 20, 26), and Swan Lake of the Paris Ballet Opera at Opera Bastille (Feb 16, 17, 19, 20, 21, 22, 23, 26). CHINESE NEW YEAR CELEBRATIONS
5 February
The Chinese community in Paris celebrates the Chinese New Year with a lot of fervor and enthusiasm. There are New Year Parades with traditional Chinese costumes, colorful dragons, the scintillating tunes of the drums and cymbals, funky lion dancers, and a lot of authentic Chinese food to gorge on. There are three major Chinese New Year Parades in the city - Quartier Asiatique (13th Arrondissement), Belleville Parade (10th, 11th, 19th and 20th Arrondissements), and the oldest one at Upper Marais (3rd Arrondissement). CUBISM EXHIBITION, CENTRE POMPIDOU
All Month
The Cubism Exhibition at the Centre Pompidou is an excellent avenue to understand the concept of Cubism and its impact on modern art of the 20th century. Cubism was started by Pablo Picasso and Georges Braque and the period from 1907-1917 is heralded as the peak of Cubism when several significant works were created. The Cubism exhibition is on from October 17th to February 25th and displays over 300 artworks in fourteen chapters.
Paris in February: 5-day Itinerary
---
Day

1

Day

2

Day

3

Day

4

Day

5
Paris Essentials
---
Paris Weather in February
February is one of the coldest months and will see through the end of winter. The average temperature during the day is about 8°C with highs of 12°C and lows of -2°C. Night temperatures are colder with average highs of 3°C and lows of -6°C. There may be a couple of days of snow but expect about 8-10 days of rain.
Where to Stay in Paris
Paris is suitable for all kinds of travelers, their tastes and budgets; here's some of the best to choose from for your stay in Paris:
5 & 4 star hotels – Hotel Vernet, InterContinental Paris LeGrand, Hotel Scribe Paris Opera, Renaissance Arc de Triomphe Hotel, Sofitel Paris Le Faubourge
Budget hotels – Hotel Banke, Taylor Hotel, Louison Hotel, Agora Saint Germain, Hotel Val Girard
Hostels – The Loft Boutique Hostel, Vintage Paris Gare du Nord, Le Regent Montmartre, Les Piaules
What to Pack for Visiting Paris in February
The key to packing for Paris in February is to dress up in layers, to keep warm and toasty. Carry a waterproof jacket and shoes, a thick jacket, and a thin sweater. You can use a combination of these based on your indoor/outdoor requirements. Carry warm gloves, wool and cotton socks, scarves, woolen caps and any other accessory you might need. Also, carry a travel umbrella, and ensure you bring a bag cover or waterproof backpack to protect your belongings.
Getting Around Paris in February
Paris has an efficient and affordable public transport system. It is maintained by the RATP which runs the Metro (Underground), RER Suburban train, Bus, and the Night Bus. The city is mapped out in 6 zones including the suburbs, and all the RATP passes and tickets are valid on all these options.
• Metro – The trains run all day long and are by far, the cheapest mode of transport.
• Bus – Best for last-mile connectivity and to get around in the suburbs.
• RER and Tram – Ideal for transport in the suburbs and very-short distances.
• Night Bus Service – Works from 12:30 AM to 5:30 AM in restricted routes, mostly in the tourist areas.
Paris in February - Must Try Delicacies French Onion Soup
The delights of a French Onion Soup are known to the world! A bowl of soup full of caramelized onions and gratineed with croutons and cheese will keep you warm during the winter months. The recipe created in Paris is ideal comfort food for the body and soul.
Where to order: Los Filósofos Fondue Savoyarde
The satisfaction of dipping bread inside a big bowl of melted cheese has almost no equivalent! The French version of Fondue comes from the Savoie region of France and is the ideal food for snowy nights. It is made from French cheeses like Comte, Gruyere, Emmental and a generous dose of garlic.
Where to order: Le Chalet Savoyard Aligot
Aligot is the ultimate version of Mashed Potatoes. The dish belonging to the L'Aubrac region of France is made of mashed potatoes, garlic, cream and lots of melted cheese. Eat it with a side of roasted vegetables and polenta, and you have got yourself a winner!
Where to order: Le Plomb du Cantal Hachis Parmentier
This dish is an ode to Antoine Parmentier, the nutritionist who popularised potato as an edible crop in France. The perfect wintry dish, it is akin to a shepherd's pie and involves a base of beef topped with mashed potato and cheese which is then baked to golden perfection.
Where to order: Polidor Beef Bourguignon
All the goodness of meat is amped up with vegetables like carrots, onions, mushrooms, and garlic to create a creamy and delicious stew known as the Beef Bourguignon. A traditional French dish, it is stewed in Red Burgundy wine that lends it the deep color and creamy taste that is unparalleled.
Where to order: Au Bourguignon du Marais
Tips to Visit Paris in February
---
February sees the end of winter sales in Paris - you may still get great discounts so keep aside some of your travel money for great steal-deals.
Alfresco dining might be difficult in this season but you can always cozy up in a cafe cradling a cup of hot chocolate. Cafes are best for observing daily routines and getting a taste of local culture since you won't find too many tourists.
Ice skating is a popular sport in Paris and you can enjoy the outdoor skating rinks near the Hotel de Ville and the Montparnasse Tower. The rinks are usually open till the first week of March when it's too hot for the ice!
Explore the hidden face of Paris (Paris Face Cachee) on February 1st and 2nd when over 120 landmarks and offices in Paris are thrown open to the public. Visit places like the back-room of a theatre or the control room of a train station, which are generally not open for the public through the year.
Planning to Visit Paris!
---
For more Paris information, here are some helpful quick links!
Explore Paris by Months
---