Often referred to as the cultural, financial and media capital of the world, New York is a fast paced metropolitan and visiting the city is an experience of a lifetime. Instead of slugging under the chilly January winds, New York celebrates the month with festivals, events, adrenaline pumping activities and much more. In addition, to further lure tourists and locals outside their cozy adobe, the city observes events like restaurant week, hotel week, winter jam and winter flea markets. While New York is beautiful throughout the year, check out our exclusive guide of what makes New York special in January.
What makes New York in January Special?
--- Winter Wonderland : The fast paced New York City is covered with snow and festivities in January. The christmas lights, christmas trees and christmas decors at retail stores are still up, making the city all the more beautiful.
Adventure : The multiple ice rinks spread across the city, open heartedly invite ice skating enthusiasts. You can also spot areas such as central park, where you can freely ski, sledge or just enjoy in the snow. In addition, events like the winter antique show and winter jazz fest make for a great experience.
Lesser Tourists : New York sees extremely few tourists in January, so if you're good to brave the cold there's no better time to wander about the city. You'll have it all to yourself!
Savings : January offers a great bargain on airfares and hotels. Moreover to attract tourists and locals alike the shops, restaurants, hotels offer post holiday discounts. In fact, you can even grab a Broadway show for much cheaper.
New York Weather in January
---
January is the coldest month in New York and as the month progresses the temperature descends further. The average maximum daytime temperature is around 3°C and the average nighttime temperature drops to -4°C. Daylight is observed for an average of 10 hours, out of which barely 5 hours see bright sunshine.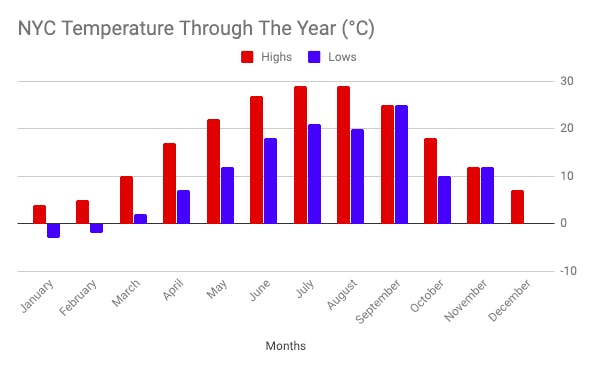 New York in January : Top Experiences
---
The Central Park adorns a winter wonderland avatar in January. Apart from being a vision in white, the snow cladded park offers ample number of activities; from a simple self-guided stroll to guided tours, from ice skating rinks to skiing or sledding hills, from riding the carousel to building a snowman.
January Timings
Open daily from 6:00 AM – 1:00 AM
Build at the former location of the Twin Towers that were destroyed during the September 11, 2001 terrorist attacks, the 9/11 museum commemorates the lives lost in the attacks and honor the rescuers. An interactive exhibition will take you through the day of 9/11, before and after 9/11.
January Timings
Daily 7:30 AM to 9:00 PM (Memorial)
Sun to Thu 9:00 AM to 8:00 PM
Fri to Sat 9:00 AM to 9:00 PM (Memorial Museum)
Metropolitan Museum of Art
Cozy up with art that spans over 5,000 years, at one of the most famous museums of the world, The Metropolitan Museum of Art of New York City aka the Met. The largest art museum in the United States displays over two million works of art.
January Timings
Sat to Thu 10:30 AM to 5:30 PM
Fri 10:30 AM to 8:00 PM
Rockefeller Center - Christmas tree & Top of the Rock
A historic landmark for dining and shopping, the Rockefeller Center proudly boasts the Top of the Rock and its three viewing decks that lends you a unobstructed 360° view of Manhattan. The ostentatious 72-foot-tall Norway spruce in the plaza is beautifully decorated for christmas and can be viewed uptil the first week of January.
January Timings
Top of the Rock - 8am to 12:30am, Last elevator up at 11:55pm
The Christmas Tree - The Tree will remain lit until 9pm on January 7, 2019. (First week of January)
American Museum of Natural History
One good way of escaping the January winds is to enter the enclosed world of Museums and Galleries. A New York icon, The American Museum Of Natural History spans over 40 exhibition halls, exhibiting 32 million specimens and artifacts depicting diversity of Earth's species, life in the ancient past and the universe.
January Timings
Daily 10:00 AM to 5:45 PM
Tipple On A Tuthilltown Tour
Not many would contest the soothing and warming effect of a good glass of whiskey during a chilly winter day. Now imagine a match made in heaven, aka a guided tour exploring the integrities of making and distilling the spirits at Tuthilltown distillery, while you get to taste 5 spirits of your choice.
January Timings
Sat & Sun from 12:00 PM to 5:00 PM

No trip to New York is complete without visiting the Statue of Liberty. The megastructure was designated as a National Monument in 1924, and it steadily attracts tourists from all over the world. Separate tickets allow you to explore the Liberty Island or ascend the stature itself. In February, you may find it easier to make reservations for the all-inclusive tour.
January Timings
Daily 9:30 AM to 3:30 PM
Go On A Circle Line NYC Landmark Cruise
Cruise across the rivers of New York, while observing its most notable destinations such as the Statue of Liberty, the Empire State Building, Yankee stadium and the world-famous bridges among others. What makes this Circle Line special is that it covers all the boroughs of New York in a single cruise.
January Timings
From 29 October to 10 March the cruise is available at 12:00 PM daily
Take A Day Trip to Niagara Falls
The winter does not stop the great Niagara Falls from being its thunderous and wonderful self. In fact, the white foreground, the glistening icicles and the all is frozen illusion, is an awe-inspiring vision. Hop on a bus and in 6 hours you'll be spending your day exploring a different landscape near the Niagara Falls.
January Timings
Guided Tours from NYC to Niagara Falls start at 4:00 AM and ends 19 hours hence
The city of New York has a number of defining features. Central Park is one. Broadway is another. If musicals are your thing, then coming to New York is like attaining the holy grail for you. Broadway is the global hotspot for everything related to musicals and performance arts. Make sure you catch a Broadway musical on your trip to New York. You may even score a discount during the first ten days of February.
January Timings
Timings Vary Depending On The Show & Availability
New York in January: Events to Look Out For
--- Central Park Winter Jam
Date: Jan 26, 2019 11:00 AM to 3:00 PM
A free winter festival organised in Central Park, that can be dubbed as the New York's mecca for the snow lovers. Enjoy activities like snowshoeing, sledding, skiing lessons by Lake Placid, ice carving and an ice sculpture garden along with some delicious hot chocolate, other beverages and a plethora of snacks. New York City Restaurant Week
Date: January 21 to February 10, 2019
Here's your chance to sample NYC's culinary scene at a bargain. Over 300 restaurants across the city participate in the New York Restaurant Week and offer a prix-fixe menu at a relatively very low price. The participants include Michelin-starred Gramercy Tavern, Locanda Verde and Indochine, among many others. NYC Broadway Week
Date: January 21 – February 10, 2019
Stepping into its ninth year, the NYC Broadway Week offers you to enjoy two broadway show at the price of one. That's correct, you can purchase 2-for-1 tickets to 24 acclaimed Broadway show including, Aladdin, Anastasia, The Cher Show, The Lion King, Waitress and Phantom of the Opera among others. Winter Antiques Show
Date: January 18 – 27, 2019
Held at historic Park Avenue Armory, the Winter Show is New York's longest-running art, antiques, and design fair. Celebrating its 65th Anniversary, the 2019 edition will feature 70 exhibitors showcasing an eclectic mix of fine and decorative arts from around the world, dating from ancient times to the present day. Winter Jazzfest
Date: January 4 – 12, 2019
A treat for all the music lovers, especially the lovers of Jazz, the Winter Jazzfest has over 700 artists performing at different venues scattered across the New York City. Check out the line-up on their official website, you can avail a day pass or a weekend pass. Holiday Train Show at the New York Botanical Garden
Date: November 17, 2018 – January 21, 2019
Enjoy a unique view of the New York city as enchanting model trains zoom past more than 175 New York landmarks such as the Brooklyn Bridge, Statue of Liberty, and Rockefeller Center all constructed with natural materials like bark and leaves to create a miniature replica of the big apple.
NYC in January : 5-day Itinerary
---
5-7 Days in New York Itinerary
NYC January Essentials
---
New York Weather in January
January is usually the coldest month of the year for New York. The average temperature for the city starts off at 1.5°C and drops down to -0.5°C by the month end. The average high around the day time is 4°C and the average low is -3°C.
NYC Accommodation In January
Similar to the New York City Restaurant Week, January also observes Hotel Week NYC taking place every January. Running from 5th - 15th Jan this year, it entails several great Manhattan properties offering rooms for $100 and $200 per night. Though if you're dates aren't clashing with the Hotel Week, NYC offers some great options from luxury hotels to hostels that can fit everyone's budget. Here are a few options:
Luxury Hotels - Ritz-Carlton New York, The Crosby Street Hotel, Mandarin Oriental, Library Hotel
Mid-Range Hotels - Hilton Garden Inn Times Square Central, Hampton Inn Downtown-Financial District, La Quinta Inn & Suites
Budget Hotels - The Local NYC, The New York Manhattan Hotel
NYC Packing List January
A trip to New York in January requires some smart packing skills. First and foremost clothes that you can layer up as indoor places - stores, restaurants, museums will be warmer, so prefer layers of clothing that can be adjusted as per the temperature. A Warm coats for the ultimate layer, waterproof footwear or galoshes to keep you feets warm, caps, earmuffs, scarves, and gloves or mittens.
Getting Around New York in January
Mass transit is a convenient and inexpensive way to get around New York City. The five boroughs are well connected via various MTA transport means. Subways are the fastest way to travel within the city. It operates all day, every day. You can opt for public buses as well. The can offer you a scenic, albeit slower way to reach your destination. The Roosevelt Island Tram is another scenic way of getting around. The city also has a famously large fleet of yellow taxi cabs that you may opt for if you have a lot of baggage. Last but not least, bikes are available for hire if you want to be in charge of your own travel. You may also take a ferry across the river to Staten Island, Brooklyn, Queens, the Bronx, and New Jersey.
New York in January: Seasonal Delicacies
--- Doughnuts and Cronuts
New York and doughnuts have been inseparable from the seventeenth century. Their very recent love child, a hybrid between croissant and doughnut, cronuts receives the same amount of love from their inception in 2014. A visit to New York without indulging into this sugary love affair is quite incomplete.
Where to eat: Dominique Ansel Bakery Spicy Pork Noodles
A hearty bowl of wholesomeness,that is a perfect recipe for those winter evenings. An Asian-inspired rice- noodle dish, full of punchy flavours from the ginger, garlic, grounded pork. In its many variations across New York, bok-choy, herbs, chile oil are added.
Where to eat: Lam Zhou Handmade Noodle Hot Chocolate
Sipping a well made hot chocolate before, during or after your day's excursion in the chilly weather is a privilege everyone should take advantage of. Especially when you are in New York, the city offers a plethora of Hot chocolate, ranging from a simple one to red velvet one.
Where to eat: Extra-Thick Hot Chocolate Cacao Market by MarieBelle, . Mac 'n' Cheese
A good humble, crispy on top, creamy and gooey in the middle Macaroni and Cheese plate can warm your heart and satiate your stomach any time of the day. While quite a common recipe, the restaurants in the big apple has mastered the art of making it to the perfection.
Where to Eat: The Cellar at Beecher's Ramen
The New York winter marks the unofficial beginning of ramen season for locals and tourists alike. The city offers an array of options, whether you are looking for a vegetarian or chicken or pork broth or milky, china-white tonkotsu bone broth or a top-notch tantan, everything is in the menu. Where to eat: Jin Ramen
Tips for Visiting New York in January
---
Take a Hop-on-Hop-off Bus Tour - You might enjoy long walks in winter, but snow might not be that friendly. In order to cover as much ground as possible while staying warm and to enjoy the scenic beauty of the city, take the Hop-on-Hop-off Bus Tour get down and up from wherever you like.
No Pants Subway Ride - While New Yorker's take their subway rides seriously as they like to stick to their schedule, some have invented this annual Improv Everywhere event to loosen to gather up some laughs from their fellow passengers. The volunteers ride the subway all clad in their winter gear except their pants. It will be held on January 13 this year.
The Three Kings Day Parade - Another event that explore the fun side of the New Yorker's. Held every year in January the marchers disguise themselves as a king. The parade includes real camels, many colorful dolls and music through Harlem. It will held on January 4, 2019.
Days are smaller - A drawback of winters, daylight hours are fairly short. Make sure you plan your visits and make your reservations beforehand so that you get to see more of the sun.
Shopping Galore - New York goes all out to celebrate the starting month of the year. With events like restaurant week and hotel week it offers huge discounts, the retail shops and malls also join in to accommodate the travelers and their shopping spree.
Planning to Visit New York in January?
---
For more fun things to do in NYC, check out our detailed guides and plan your trip better!