When you think of Dubai, the first three things one tends to imagine are - golden deserts, sky scrapers (Burj Khalifa, duh!) and probably shawarma. While these most definitely touch the surface of what the city is all about, Dubai has leaps and bounds more to offer. Before booking your tickets, check when the best time to visit Dubai is. Each month the city evolves and has something catering to a different audience. Pick your month wisely and enjoy your Dubai vacay all the more!
Best time to visit Dubai - Know Before You Plan Your Trip
---
The best time to visit Dubai is from November to February when you can experience the best of Dubai – the desert and outdoor activities to exciting events and live entertainment. March, April, September and October are ideal for those who want a laid back holiday without the crowds. But thanks to its ingenious architecture and building technology to keep cool, there is always something to do in Dubai all year long!
Best time to visit Dubai - For Different Kinds Of Travelers
Best Time for Staying Outdoors in Dubai : November, December, January, February, March, April
Best Time for Beach Goers : March, April, September, October
Best Time for Honeymooners : December, January, February
Best Time for Budget Travelers : May, June, July, August
Best Time for Shopaholics : January, July
Dubai Through The Year
---
High Season in Dubai starts from November and goes on till April. The period is marked by idyllic weather with cool temperatures and bright winter sun, a contrast to the chill and dreary weather across most parts of the world. It is the season of joy in Dubai marked by concerts, live events, shopping festivals and exciting tours like dhow cruises and desert safaris. It is when international tourists descend and lead to high airfare and hotel rates.
Low Season in Dubai is when the sun drives away even in the best-intentioned travelers. Summer in Dubai starts in May and ends in August. It is the best time to visit Dubai for backpackers, and those on low budgets as airfares are cheap, and everything else is discounted. It does not diminish much of the travel experience as most of Dubai's attractions are indoors and air-conditioned. However, you won't be able to enjoy the sea or outdoor activities.
Shoulder Season in Dubai is when you hit the surf! The temperatures start to dip in September and October, and the sea becomes pleasant for a swim and exciting water adventure activities like jet-surfing and wakeboarding. It is the school season around the world, and international tourists come in fewer numbers ensuring cheaper rates for almost everything.
Best Season To Visit Dubai
---
While Dubai does not have all the four seasons in full swing, the weather borders around the worldly four seasons. Take a look and you'll know.
Dubai in Spring
Dubai is located in the desert and unlike in other parts of the world you cannot experience spring bloom in the city. Yet, you will experience it in the glorious weather with just the right amount of sun. March and April in Dubai experience spring weather and it is one of the best times to visit Dubai. It is a great time to indulge in outdoor activities and enjoy the sea which is the perfect temperature for swimming.
Dubai in Summer
Summer is long and hot in Dubai and extends from June to August. The days are long with more than 13 hours of sunlight, and you can venture out comfortably in the early mornings and late evenings for outdoor activities. This is the best time in Dubai to visit attractions and theme parks as it is the low tourist season and you won't experience too many crowds.
Dubai in Autumn
September and October can be likened to autumn in Dubai although unlike the rest of the world it is not characterized by colorful foliage but a dip in the temperature. The oppressive heat of summer ends, and you can start exploring outdoors again. The city begins hosting cultural events in autumn that make it an exciting time to be in the city.
Dubai in Winter
Winter in Dubai stretches from November to February and is the perfect winter getaway for those who don't like snow and cold temperatures! This is the season to enjoy the outdoors, head to the desert, and indulge in adventure activities. However, the sea can be less forgiving and is too cold for leisurely swimming. But it is hands down the best time to visit Dubai thanks in part to its outdoor festivals, events, and shopping festival that entertain all kinds of travelers.
Weather In Dubai Year Round
---
The weather in Dubai year round has been charted on a graph below. The Highs are depicted in red and the Lows in blue.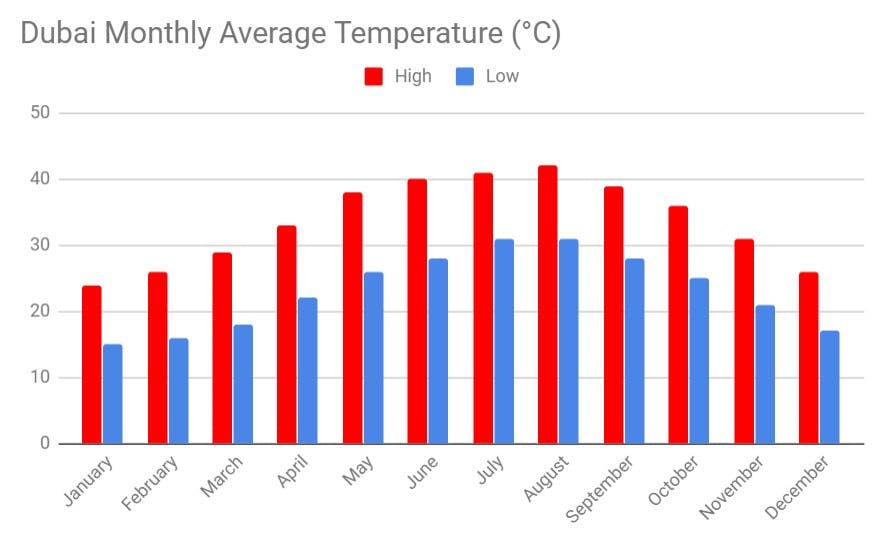 A Month-By-Month Guide To Visiting Dubai
---
Follow our detailed guide to pick a month for your Dubai exploits.
Dubai In January
Average Temperature: 15°C - 25°C Dubai in January experiences pleasant weather, which makes you want to stay outdoors, all day long! The mild temperatures are perfect for indulging in adventure activities like sky diving, zip lining, and going on hot air balloons. The city also sees fewer tourists thanks to the end of the international holiday season after the New Year. But, there is still a lot to cheer, especially the annual Dubai Shopping Festival. The month-long festival offers discounts at shopping malls and designer stores that will satisfy your inner shopaholic. The city also has incredible live entertainment like Cirque du Soleil and events like Quoz Arts Festival, which will give you a taste of culture and arts.
Dubai In February
Average Temperature: 6°C - 26°C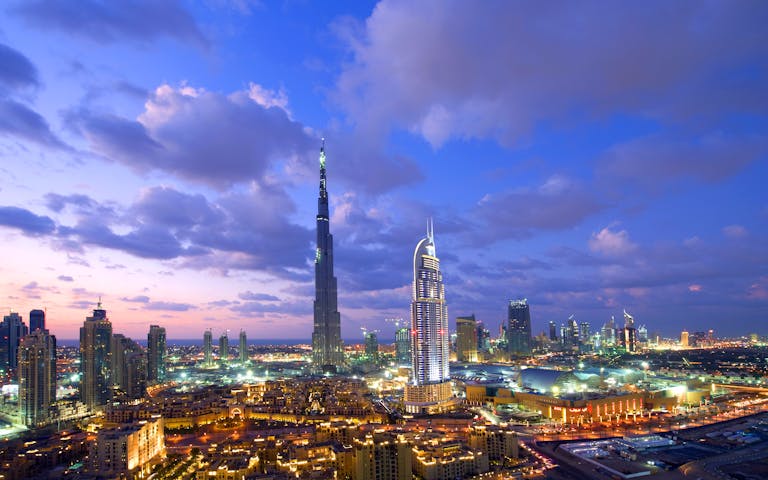 In February, the temperature in Dubai is akin to springtime weather in Europe, making it a great winter destination. The combination of sunny days and pleasant temperatures are ideal for enjoying outdoor activities. You can go on a desert safari and enjoy dune bashing, camel riding and traditional desert living, or go on a Dhow cruise to soak in the mild evenings. The city is also host to several events like the Dubai Jazz Festival and the Dubai Food Festival that will satisfy the foodies and music lovers. Being a school season pretty much across the world, Dubai is bereft of family crowds in February.
Get out and about in Dubai!
Dubai In March
Average Temperature: 18°C - 29°C The temperature in Dubai in March starts rising, and it is the best time to spend your day at the beach. Dubai boasts of several fantastic beaches including private resort beaches, and the sea temperature is just right for swimming. If you are up for adrenaline spiking activities, then go for jet skiing, flyboarding, parasailing or on a leisurely paddleboarding trip with the magnificent Dubai skyline in the background. Dubai is fast becoming a cultural hub in the Middle East, and in March the city hosts the Sikka Art Fair and Annual Festival of Literature. March is one of the last months when you can be out in the sun and enjoy it thoroughly!
Hit the beach With these exciting water sports!
Dubai In April
Average Temperature: 22°C - 33°C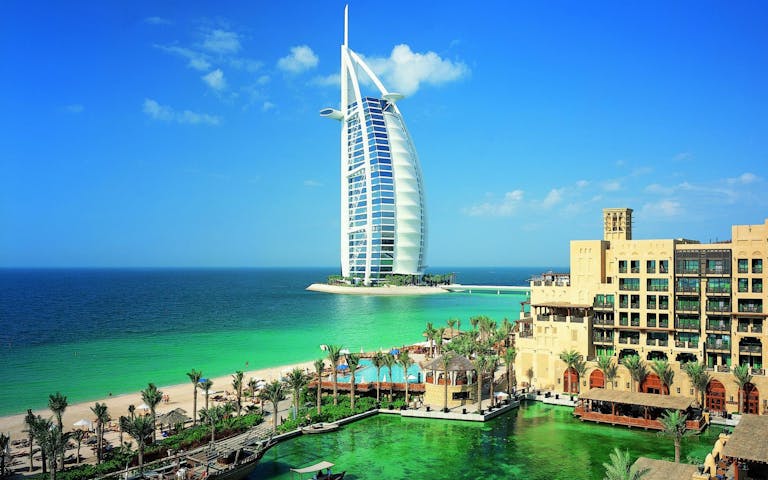 Summer has reared its head in Dubai in April, and the rising temperatures can be felt! The days are longer and hotter, while the evenings start to cool down contrastingly, leading to shifting of all the fun events during the evenings. In April, you can enjoy the events at WOW JBR, Global Village and the many activities conducted at the theme parks in the city. The major event in Dubai is the Middle East Film and Comic Con which draws visitors from all across Asia. Spend the day sightseeing and take a dip in the pool in the evenings to wash off the heat and grime of the day!
Dubai In May
Average Temperature: 26°C - 38°C Bring out the sun screen and hats because it's full-blown summer in Dubai in May. You will have to plan your itinerary in such a way that you spend the better part of the day inside the fantastic shopping malls, exciting attractions or theme parks. May is also when Dubai celebrates its biggest festival, Ramadan or Ramzan. Local eateries and attractions will change their timing to suit the Ramadan timing, so make sure you plan your trip accordingly. Tourists get the chance to observe the authentic Islamic culture and participate in the feasting that takes place after sunset when the local break their fast.
Dubai In June
Average Temperature: 28°C - 40°C
The long days of June mean you can pack in a lot of stuff to see and do in Dubai. However, the key mantra to follow is 'Stay indoors' through the afternoon. The sun is at its peak, and you might even suffer sunburn, so keep sunscreen handy. Attractions like the Green Planet, Ski Dubai and theme parks like Aquaventure, IMG Worlds of Adventure, Wild Wadi Waterpark, and Dubai Dolphinarium are great places to enjoy the summer with kids. The city also boasts of a world-class Opera House where you can watch classical concerts and museums like the Louvre, Sharjah Art Museum, and Dubai Museum which are full of artistic and historical treasures.
Stay indoors with these activities in Dubai
Sign up for our monthly newsletter
Your dose of travel fix - from hacks and deals to travel tips and everything in between, delivered monthly to your inbox
Please enter a valid email
Unsubscribe anytime
Dubai In July
Average Temperature: 31°C - 41°C July is one of the hottest months in Dubai and the only time you can comfortably venture outdoors is at night, which is coincidentally the best time to enjoy the Dubai glitz and sparkling skyline. The heat also ensures that a lot of international tourists stay away leading to lower airfare and hotel rates. However, the fun never ceases in Dubai; shopaholics will enjoy the bountiful offers of Dubai Summer Surprises which is the summer counterpart of the Dubai Shopping Festival. You can enjoy discounts and offers at shopping malls, and theme parks, plus attend night concerts, firework displays and fun workshops for the kids.
Dubai In August
Average Temperature: 31°C - 42°C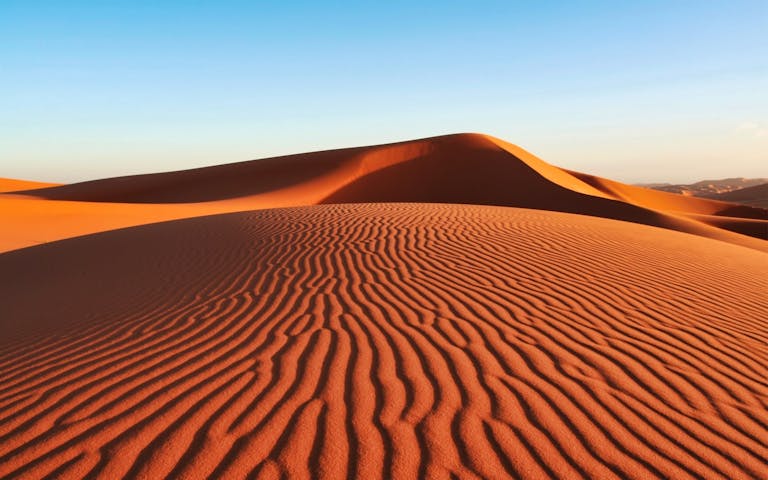 August is the peak of summer in Dubai and temperatures are soaring, even the sea won't offer any respite as day time sea temperatures are a hot 30°C plus! This is the least crowded month in Dubai despite it being the international vacation season, and rates are incredibly low, and offers run high with lots of freebies thrown in. So if you are seeking a budget Dubai vacation, then this is the best time to visit! You can still indulge in activities like a Dubai Night Tour, a Dhow Dinner Cruise, or a Big Bus Panorama Night Tour. The cool air-conditioned confines of the museums and attractions are the best way to spend August in Dubai!
Recommended Experiences in Dubai during Summers
Dubai In September
Average Temperature: 28°C - 39°C Summer is on its way out in September but not with enough speed! The average temperatures lower in Dubai in September but it's still hot and humid, which means you still have to ensure about planning your day well to avoid the heat and packing right for it. The live entertainment and event scene starts picking up in September with shows like La Perle Dragone and concerts at the Dubai Opera House. The highlight of the month is the Saudi National Day which will witness fireworks displays and celebrations across the city. Dubai is always an evergreen destination for shopping and entertainment, and September will not disappoint you!
Dubai In October
Average Temperature: 25°C - 36°C Dubai is located in the desert, so summer draws out quite a bit and there is no semblance of autumn; however temperatures continue to lower in October in Dubai. The sea becomes a jaunt for tourists again as the sea temperatures reduce becoming ideal for swimming and water adventure activities. It is the season of camel racing in Dubai, and you can witness traditional events around it, and it is the perfect time to head out to the desert and enjoy a camel ride yourself. In the city, Opera shows are still on, and Halloween festivities are catching up in the high-end restaurants and malls.
Dubai In November
Average Temperature: 21°C - 31°C If you are looking for a winter holiday and want to escape the cold weather gripping the rest of the world, Dubai is where you should head! The temperatures in Dubai become pleasant in November as it is the start of winter. You can comfortably venture outdoors even during the day time and enjoy outdoor activities. There are lots of international events taking place in the city like Dubai Design Week and Downtown Design. You can also hop over to the neighboring capital city of Abu Dhabi and watch the F1 Grand Prix, and while you are there take a tour of the Ferrari World and Yas Water World.
Dubai In December
Average Temperature: 17°C - 26°C
Dubai in December can be described as beautiful, thanks to its weather and the festivities! It is one of the colder months in Dubai, and you can pack light sweaters to keep warm at night, while the days are refreshingly cool. December is chock-a-block with events starting with the UAE National Day which is Emirates Independence Day, followed by the Dubai International Film Festival and the Rugby Sevens tournament. Christmas and New Year's Eve bring over tourists from across the world, and the Burj Khalifa is an epic destination to bring in the New Year! The Dubai Winter Festival will bring in the requisite cheer with sales and Christmas markets.
Dubai 5-day Itinerary
---
Whether you're visiting Dubai in May or November, here's a handy 5 day itinerary to experiencing the best of Dubai. You can read our detailed Dubai itineraries and plan your trip better.
5 Days in Dubai Itinerary
Planning to Visit Dubai?
---
For more Dubai information, here are some helpful quick links!