There are many reasons to keep Barcelona in your bucket list. The Catalonian capital is one of the best places to bask in the Iberian sun. The nightlife at Barcelona is glorious and the architecture is bound to take your breath away. Barcelona is also home to some of the most friendly people in Europe. However, that doesn't mean that the city is free of vices that afflict all popular tourist spots in the world. There are numerous tourist traps waiting to bait inexperienced travelers. If there is a language barrier, you are even more susceptible to end up with bitter experience, just like many other visitors. This is why we have compiled an exhaustive list of tips, tricks, and warnings that are certain to come in handy when you visit Barcelona. Read on to know our curation of Barcelona Travel Tips along with insider tips on saving money on food, transport and other quick hacks!
Barcelona Essentials
---
Starting with the essentials, here's what you must know before getting to Barcelona. Make sure you pack the right travel adapters. Also, brush up your Spanish maybe!
Best Time To Visit Barcelona
---
April to July or September to November
Barcelona is blessed with a temperate climate, owing to the proximity to the sea. As such, Barcelona sees a steady flow of tourists during the entire year. So if you want to visit Barcelona during a quiet time of the year, April to July and September to November is your best bet. These are the shoulder seasons for tourism in Barcelona. A number of festivals and concerts take place in the city during this time, and the lower footfall means you can enjoy the beauty of Barcelona in peace.
Barcelona Travel Tips 101 - A First Timer's Holy Grail
---
Below are the tips and hacks you're here for. Read on and thank me later!
#1 Beware of pickpockets in the city
Starting with the obvious, Barcelona is an immensely popular destination. No matter where you go in the city, you are bound to encounter some crowd. And this very crowd fosters pickpockets. So secure your money before leaving your room.
#2 Order Vermouth and Cava at the bar You might immediately feel the need to order a sangria when you step inside a Barcelona bar, but you would be better off ordering a caramel and cinnamon infused vermouth. If you want to go fancier, order a cava, the staple white wine of Catalonia.
#3 La Barceloneta Beach should be Plan Z
You would hear a major section of Barcelona tourists say that La Barceloneta beach is a must visit. However, the sheer volume of visitors to that beach renders it completely saturated. Visit the relatively less popular ones, like San Sebastiá, Bogatell, Nova Icária, Sant Miquel, and Mar Bella.
#4 Plan to attend one of the many Barcelona festivals Yes, coming to Barcelona during a festival might drop you into a sea of people, but at some point, you have to stop and think why do so many people attend these celebrations? Come to Barcelona around August-September and experience the festive side of Catalonia.
#5 Attend a concert at Palau de Musica Catalana
If you're a seasoned traveler, you might have been to many UNESCO World Heritage Sites. Palau de Musica Catalana is another heritage site. There is a reason that UNESCO felt this venue deserved the title, and you must attend a concert here to find it out for yourself. If you don't want to shell out for a concert, you can take the economically priced Palau de Musica tour and get a preview of the grandeur.
#6 Las Ramblas = Tourist Traps
Las Ramblas attracts a huge chunk of the tourist population in Barcelona. As a result, it is also the most famous hunting ground for tourist trappers. Starting from mass produced and low-quality street food to overpriced dance bars, Las Ramblas has plenty of dark tricks up its sleeve.
#7 Revel in the street art of Barcelona The artistic inclination of Barcelona is extraordinary. Apart from breathtaking architecture, the city also features some of the best street arts in Europe. Worth the mention are the Peix at Carrer de Ramon and El Gato del Raval at Rambla del Raval.
#8 For the best panoramas, hike to Bunkers del Carmel If you don't mind a hike, you could climb to Bunkers del Carmel. This is a point from where the entire city of Barcelona is visible with the sea in the backdrop. The bunker was once used for defense purposes due to its strategic position.
#9 Get lost in the Gothic Quarters
The city of Barcelona is fairly urban. If at any point you wish to visit a place away from the commercial polish, the Gothic Quarter is where you should go. With its history, walking around this neighborhood will surely take you back in time. Keep the maps away and take a wrong turn. You'll be pleasantly surprised. Check out this interesting Gothic Quarter walking tour that acquaints you with the secrets of the street and Cathedral of the Sea
#10 Have a drink with the legends at Bar Marsella Barcelona has been a cultural melting pot for quite a while. Numerous icons from various fields of art were known to frequent Barcelona. Bar Marsella is a long-standing institution in the city and was visited by the likes of Salvador Dali and Ernest Hemingway. Visiting this bar might get you close to these respected figures in history.
#11 You get the best souvenirs from flea markets
Undoubtedly, flea markets are the best place to discover gems and take them home for a reasonable price. Visit the Els Encants Vells flea market to buy paintings, jewelry, cutlery, and other articles at a very low price. Perfect for souvenir shopping.
#12 Gorge on some quintessential Spanish Tapas
Tapas are small portions of food which you are meant to get as an accompaniment with the drinks. However, in Barcelona, you can buy these small plates of food which come in an extraordinarily wide variety. You may even try tapas and drinks tours if you want.
#13 Go on a Gaudi Trail Many of Antoni Gaudi's buildings are now ticketed and come with a full tour. However, Gaudi doesn't just display his magic in the interior of the building. You can walk around the neighborhood appreciating the exterior of the likes of Casa Batllo and Casa Mila for free. However, if you have the money ( and interest ), you should most definitely step inside his buildings. They are magical!
Read more about Gaudi's best works and taking a Gaudi Trail by yourself.
#14 If you had to visit one of Gaudi's wonders, let it be Park Guell
One place we do recommend for an in-depth visit is Antoni Gaudi's Park Guell. Despite being located a bit far from the city center, Park Guell is worth the trip as it packs a lot of Gaudi's works in the limited area. Moreover, you can pack a picnic if you want and make a day of your visit.
Discounted Park Guell Tickets
#15 There's no leaving Barcelona without some Flamenco Small bars around Barcelona provide some of the best entertainment in the city. If you wish to experience Flamenco, skip the ones advertised at Las Ramblas and retire to a bar that where you can see this beautiful dance form unfold. Here are a few tips you'd like to know before heading for a flamenco show in Barcelona
Tickets to best Flamenco shows in Barcelona right now
#16 Arrive early at the nightclubs
Barcelona sleeps famously late. So arriving at nightclubs at around 11:30 can be considered early. What this does is it frees you from the exorbitant entry fee as the night rolls on. Arriving early and staying in can be a good way to save some money.
#17 Respect the political scenario of Barcelona
Barcelona is the capital of Catalonia, the richest part of Spain. The financial discrepancy and cultural difference have, over the years, caused a rift between Catalonia and the Spanish government. Refrain from making offensive comments on the scenario as it is bound to get you in trouble.
#18 Football fans cannot miss Camp Nou
Home to FC Barcelona, Camp Nou has recently been renovated and is swankier than ever. By visiting the Camp Nou, you are not just walking into a mere football stadium, you are stepping into and experiencing history. Also, Camp Nou is the largest football stadium in Europe and second largest in the world, in terms of capacity. Gotta see it! Read all about taking a Camp Nou Tour.
Discounted Camp Nou Tickets
#19 A day trip to Montserrat can be refreshing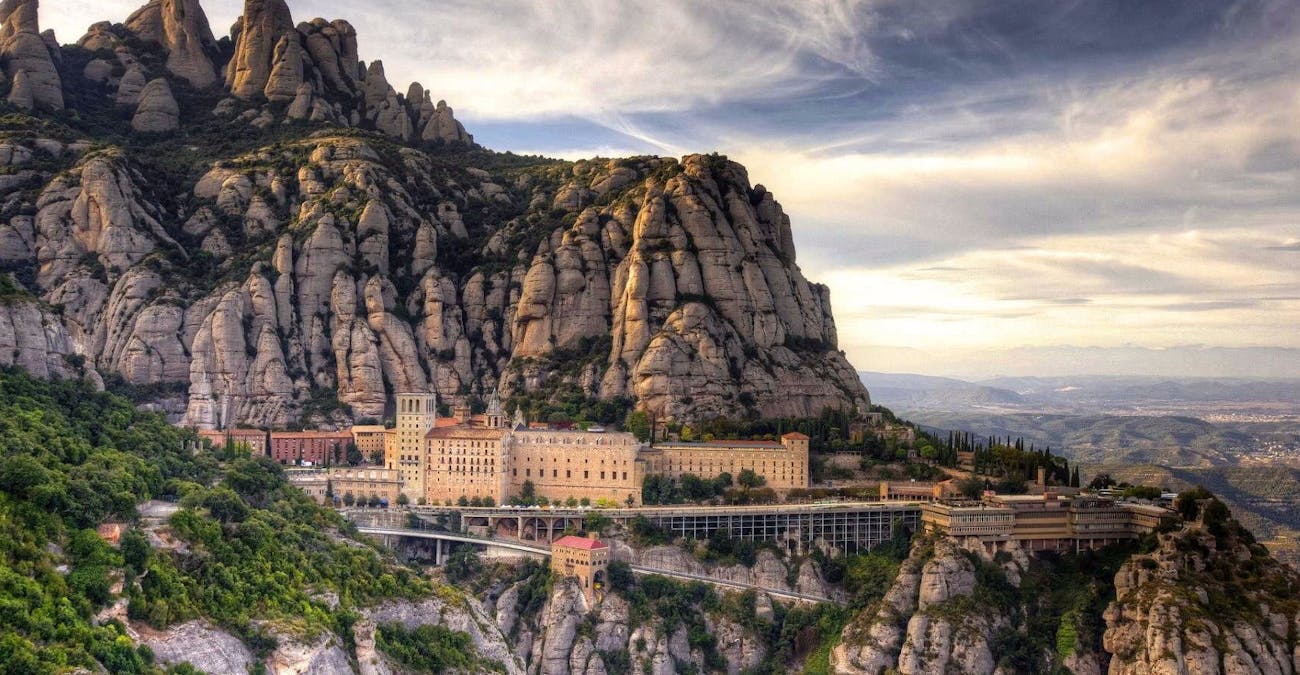 The Montserrat mountain is a mere 50 km from Barcelona, Spain, and is thronged by tourists all year. Relax in the peaceful atmosphere of the monastery, pray to the Black Madonna, hike up to the top of the mountain and watch the sunrise, view artistic masterpieces at the museum and listen in bliss to the famous boy choir in the Basilica - the possibilities are endless here. Here's what you must know before taking a day trip from Barcelona to Montserrat.
#20 If you're traveling with kids, hit up the Zoo or Aquarium Not too many people know about the Barcelona Aquarium and Barcelona Zoo, but both these attractions are a great place to keep your kids entertained. And, if you're an animal lover, you'll love them too. Spend a day with exotic breeds you may never have seen before and make memories for a lifetime.
Tips For Saving Money On Transportation In Barcelona
---
Book flights in advance
Barcelona is a hot tourist destination. Flights in and out of the city are always in high demand. In order to not blow half your savings on flight tickets, make your bookings in advance. This will also help expedite the planning process.
Walk to attractions around the city
The city of Barcelona is quite delightful. It has aesthetically pleasing architecture and friendly people. If you have to travel a short distance from one attraction to another, take a walk. You will be able to see the city from close proximity as well.
Take the train from the airport terminal 2
Reach terminal 2 after landing at the Barcelona airport and take the RENFE train to Passeig de Gracia. You can then take a metro from there to the city. This a significantly cheap alternative to travel into the city.
Grab hold of the Barcelona Pass
The Barcelona Pass allows you to reap the benefits of big savings on both time and money, with or without a handy travel card, giving you unlimited access to the city's reliable public transport. Your attractions and travel needs are sorted with this one pass in hand. Check it out here.
Avoid cabs if you can help it
There are numerous modes of transport available in Barcelona. Cabs are, by far, the priciest of the lot. Try to leave for your destination so that you don't have to hurriedly look for a cab at the last moment.
Tips For Saving Money On Eating In Barcelona
---
Eat street food at the Gothic Quarters
The Gothic Quarters of Barcelona go back centuries. It is drenched in history. As you familiarize yourself with the history of this locality, try the delectable street food from the hawkers. The one item that you absolutely cannot miss is the churro con chocolate.
Discover local cuisine at Barcelona's neighborhoods
Local neighborhoods of Barcelona aren't just famous for the mind-blowing architecture. The lanes of Poble Sec and Sants are lined with small but proficient restaurants and cafes. Instead of throwing money at the stalls at popular tourist spots, opt for the authentic dishes here.
Tip around 10% at restaurants
While it is not a stringent rule, a tip of about 10% is standard in Barcelona. So even if you are habituated to pay more than that in your country, remember that 10% is just enough.
Try the set menus for lunch
Menu of the day or menu del dia is probably the best and the cheapest way to explore the local cuisine in Barcelona. Several cafes and restaurants in the city offer a set lunch menu for as little as 15 euros. It includes a main, a dessert, and complimentary drinks.
Drink outdoors instead of bars and restaurants
This one is quite obvious. Restaurants charge steep service charges to bring your drink to your table. Bars also charge an entry fee late at night. Instead, grab a bottle of your favorite liquor from the shop and drink outdoors. It saves money and multiplies the fun.
More Tips To Save Money In Barcelona
---
Visit museums for free : In Barcelona, the entry fee of many museums is waived on the first Sunday of every month. Given that these museums are the best places to discover the history and culture of Catalonia and Spain, you should not pass on this terrific opportunity.
Book tickets in advance and online : In this day and age, online tickets are available for virtually every attraction. If you are heading to Barcelona, you should book online tickets in advance for as many attractions as possible. Not only will you save time, but you may also score lucrative discounts.
Haggle hard when shopping : Haggling is a skill and you can use it to your advantage when shopping in the streets of Barcelona. There are numerous outdoor markets in Barcelona that are perfect for shopping for souvenirs. If you haggle, you can buy twice as much for the same amount of money.
Rent apartments and airbnbs instead of hotels : Hotels come with a certain level of luxury. However, if you want to divert more of your kitty towards exploring the gems of Barcelona, you should opt for an apartment or airbnb instead. You can save money on food by cooking for yourself in the kitchen. Hostels in Barcelona are great too and most of them have free food or even kitchens.
Visit during the shoulder season : The low seasons see a significant decline in the number of tourists. As such, it is not uncommon for hotels and motels to slash their rates significantly in order to attract more tourists. Low season in Barcelona is between January and March.
Top 10 Things To Do in Barcelona
---
I'm sure you have your itinerary all sorted, but here are my top 10 favourites in Barcelona. If any of these are missing from your itinerary, make sure you squeeze them in! There are a few recommended tours for each attraction, so if you haven't grabbed tickets as yet, now would be a great time.
1. Sagrada Familia
2. Park Guell
3. Casa Mila
4. Camp Nou
5. Flamenco Show
6. PortAventura World
8. Poble Espanyol
Check out discounted entry tickets to Poble Espanyol
Ready to explore Barcelona?
---
Here are a few more guides that should help you plan your visit.