Whether you're taking a stroll around Little India, or grabbing a bite at Chinatown, Singapore will keep you hopping, if not busy, during your getaway here. A melting pot of cultures and a melange of contemporary architecture makes Singapore what it is today. Apart from keeping your itineraries busy, the tiny island is also home to some of the world's most delicious street food and cuisines. However, if you're still confused and wondering where to start your exciting experience, head out to catch some extraordinary views of the city at the Singapore Flyer!
What is the Singapore Flyer?
---
The 116m-tall ferris wheel that adorns the Singaporean skyline makes an iconic go-to destination for locals as well as tourists. Witness expansive panoramic views of Singapore's skyline from its glass capsules. 42 storeys high, the Singapore Flyer views can stretch to parts of Indonesia and Malaysia on a clear day. Treat yourself to some iconic monuments and historical milestones such as Merlion Park, Marina Bay and the Singapore River, from a bird's eye perspective. Apart from being an observatory, the Singapore Flyer also offers an experience to remember that will keep you looking back at your fond memories years ahead.
Good To Know
---
Singapore Flyer Opening Hours
8:30 AM to 10:30 PM, Monday to Sunday
Singapore Flyer Duration
A Singapore Flyer ride takes 30 minutes to completion
Height of the Flyer
The Singapore Flyer stands tall at 116 meters.
Best Time to Visit The Singapore Flyer
During evenings to catch a spectacular sunset
Singapore Flyer Ticket Prices
The Singapore Flyer tickets are economically priced and suited even for budget travelers. The prices are as below :
Adult Ticket S$33
Senior Citizen Ticket S$24
Child Ticket S$21 (3 to 12 years old)
Why should you visit the Singapore Flyer?
---
Apart from exhilarating views, the Flyer also offers a cutting-edge, luxurious flight experience that comes accompanied with a butler. Here's why you should experience the Singapore Flyer once in your lifetime.
It is the world's tallest observation wheel (outside of United States) beating the famed London Eye.
It gives you a chance to feast on authentic Singaporean cuisine during your ride.
Experience a 6D motion ride at its XD Theatre, a first in Singapore.
The Singapore Flyer allows you to fly a real 737 Simulator!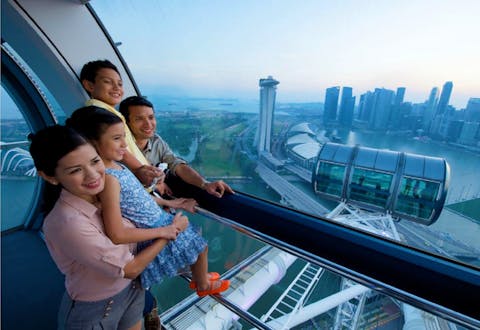 Walkabouts
Singapore Flyer Night Discovery with River Boa...
New Arrival
5% Cashback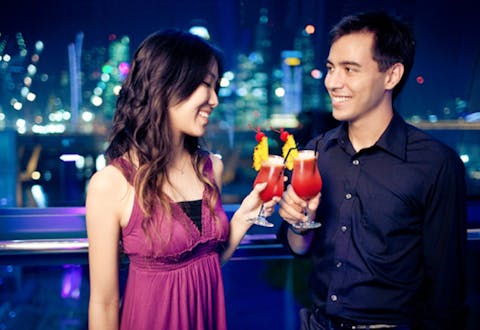 Sentosa Island Attraction Tickets
Singapore Flyer Premium Sky Dining
The Singapore Flyer experience
---
On board the gigantic ferris wheel, you will be treated to 30 minutes of undisturbed views of Singapore's cityscape. Bask in opulence and luxury during your ride, enjoy an iconic drink at the Singapore Flyer Sling which serves chilled, hand shaken cocktails — the best in the city. Feast your eyes to several well-known landmarks around its 45 kilometre radius. Some amongst those include Sentosa Island, Changi Airport, Merlion Park and several others.
Relish the moment with in-flight dining experience with Singapore Food Treats, a 1960s themed restaurant offering delicious local fare, such as Bak Kut Teh, Hainanese Chicken Rice amongst others. If you're someone who loves contemporary food, head down to Sky View Pavilion for a taste of Cantonese delicacies.
What's different about the Singapore Flyer Sling Experience?
---
The Singapore Flyer Sling offers a chance to relish the classic drink, shaken and stirred onboard the Flyer. The gin-based cocktail gained popularity across the world after it was developed in the year 1915 by a bartender working at the Raffles Hotel. Avail an exclusive chance to ride on a Vietnam War era vehicle with the Captain Explorer Adventure. Ride through the streets (and waters!) of Singapore with a skilled guide who will brief you to each and every landmark across the city.
Witness the grand Esplanade Theatre, the imposing Supreme Court, the City Hall amongst many, and arrive at cruise by the end of your ride to take the tour into the water. From the calm waters of Marina Bay, observe the serenity of the city and enjoy unobstructed views of Merlion Park, the Marina Bay Sands, and various other landmarks.
Best Singapore Flyer Combo deals
---
Singapore Flyer + Gardens by the Bay
Avail a chance to experience Singapore's most well-known attractions in a day at an affordable rate. Hop aboard the Singapore Flyer that takes you through the city's skyline in a lavish, air-conditioned glass capsule. Take a stroll down the city's iconic Gardens by the Bay that are home to exquisite flora and fauna.
Observe the biodiversity and geology that is thoroughly maintained at the garden and explore the world's tallest indoor waterfall. You can also take a lift up to the mountaintop and learn about the rare species that are preserved from the various environmental threats they face today.
Singapore Flyer Night Discovery + Free River Boat Ride & 1-Day Hopper Pass
Make the most of your vacation with a super saver combo pass. Experience the glimmering lights of the Singaporean skyline from an air-conditioned glass capsule in the Singapore Flyer's Night Discovery. Later you could choose to cruise along the Singapore river that races through the city's veins and acquaints you to its many landmarks.
Enjoy all of this and more with a day long FunVee Hopper pass that covers all the major attractions of the city including the Merlion Park, Chinatown, Botanic Gardens, Little India & more.
All about the Singapore Flyer Dinner
---
Enjoy an hour long experience that includes an interactive dinner alongside the stellar views of the island city. Flyer 360+ allows you to indulge in a delectable meal on flight whilst enjoying the panoramic cityscape. Discover the sights and sounds, apart from the stories, at the touch of your finger tips. The luxurious experience will include a host for the evening, an exclusive check-in, two rotations (one hour) and a four course dinner served along with coffee, tea and dessert at your arrival — making it nothing lesser than a memorable five star experience for you and your loved one.
Where is the Singapore Flyer?
---
The Singapore Flyer is on 30 Raffles Ave, Singapore 039803.
Getting to the Singapore Flyer
---
By MRT
You can take the MRT (Mass Rapid Transport) down to the Promenade Station with the downtown line DT15 or Circle Line CC4. On arriving, take exit A and look out for blue pedestrian signs to the Singapore Flyer, which is merely five minutes away from the station.
By Car
Drive down to the Singapore Flyer which is easily reachable from the Central Business District. It takes 10 minutes from the Orchard Road and 20 minutes from the Changi Airport. There is also a multi-storey car parking facility available within the premises which could house 284 cars apart from 3 handicapped slots.
By Bus
SMRT operates a bus service from City Hall MRT Station to Singapore Flyer. The frequency of this bus is every 5 minutes and the journey takes 3 minutes.
Handy Tips For Your Visit
---
Visit during the dusk to enjoy the illuminated views of the city's skyline.
Late evenings and early mornings is the best time to visit the Singapore Flyer as there will be little to no crowd.
Pre-purchase your tickets online to avoid long queues at the ticket counter.
It is best to plan your day according to its exciting indoor attractions — including the 6D theatre, Rainforest Discovery and 737 Simulator.
The combo deals work out cheaper, hence grab them if you're interested in the other attractions available on the combo.
Singapore Flyer Reviews
---
A hassle free journey lasting 30 minutes offering amazing views of Old and New Singapore. The Flyer is significantly larger than the London Eye. It can get busy in afternoon and evenings but we went at 11am and we only waited for 15 minutes.
- ricknsue, Tripadvisor 2019
Singapore Flyer is 165 m high and it's a great experience to go on it. The flyer takes you in closed cabin meant for 28 persons,but we were only 7 at the time I was riding . It moves slowly giving ample time to take photos and enjoy the scenery. It is very safe and enjoyable ride.total ride takes about 30 to 40 minutes. There are arrangements for dining and drinks on the flyer by paying higher ticket.
- Shanveer, Tripadvisor 2019
Read more Singapore Flyer reviews on Tripadvisor and learn what past visitors have to say about this stellar attraction.
Final Thoughts
---
Take in the tranquility with some calming views of a city that never stops. Experience Asia Largest Giant Wheel and the breathtaking views of its numerous historical milestones from a bird's eye view. Apart from that, make the most of your visit with its many indoor facilities and shopping. The Singapore Flyer will definitely sweep you off your feet with a memorable ride that you can take back home with you.