The gleaming sand dunes and high-rises that now mark the grandeur of Dubai make its origin as a small fishing village a little hard to believe. For centuries, the warm and shallow waters of the Dubai Creek supported the local pearl and fishing industries. An integral part of this ancient Arab world was the dhow. Dhows are traditional wooden boats that were masterfully designed and built by the local fishing communities and used for navigating the Red Sea and the Indian Ocean. Today, these dhows have evolved from being small sailing boats to fine examples of luxury cruises. Its wooden structure can now be found equipped with facilities like 360-degree glass walls, dining spaces, entertainment and recreation units. These ships that were once used as the primary mode of transportation and trade, have now become an anchor between the past and present.
If you are a fan, and are heading to Dubai, then make sure you experience a little bit of its history and glory by reserving a seat on one of the many dhow cruises in the city. The various dhow cruise experiences offered in the bustling waterways of the desert city promise unique experiences to everyone. From spell-binding views to onboard entertainment, your time on the cruise will surely become a memory of a lifetime. Read on to find out all about the best dhow cruise in Dubai before choosing the perfect ride to explore the dazzling city of Dubai.
Where can I go for a dhow cruise in Dubai?
---
Dhow cruises in Dubai are held primarily in the Dubai Creek or Dubai Marina. Sailing along the Dubai Creek will take you back in time as you pass the ancient Souks and witness pearl diving while a trip down Dubai Marina will leave you wide-eyed as you pass through sites like the famous Palm Jumeirah and Burj Al Arab in the Venetian style canal district. The wooden dhow cruises sailing through the two routes offer distinct experiences.
What do the Dubai Creek and Marina cruises look like?
--- If you are onboard a cruise in Dubai Creek, be ready to get engulfed in the history of the desert city. On either side of the creek, its oldest districts Deira and Bur Dubai stretch out in all their glory. During the hours you spend cruising here, you will witness the timeless hubbub of the gold and spice souks, pass by the heritage village, Rolex Twin Towers, Sheikh Saeed's house, and National Bank of Dubai.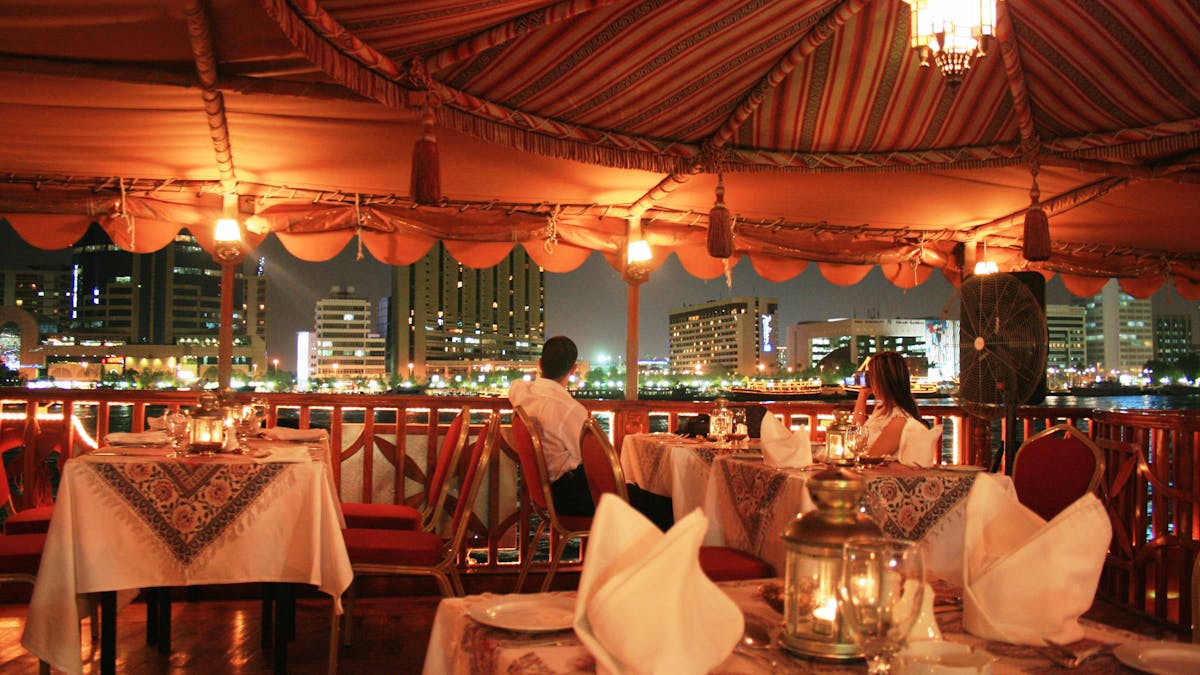 On the other hand, reserving a seat on one of the Dubai Marina dhow Cruises is a chance for you to get bedazzled by the glittering modernity of new Dubai a.k.a. Dubai Marina. The architectural wonders like Burj Al Arab, Hotel Atlantis, and Palm Jumeirah that dot this part of the Gulf shoreline are a testament to Dubai's shimmering modernity.
What is the best time to go for a dhow cruise in Dubai?
---
Dhow cruises sail throughout the day, and offer either sightseeing or luxury dining opportunities. Depending upon what you would like to experience, you can opt for day-time cruises which are geared for sightseeing or go for cruises later in the evening that are popular for dinner and onboard entertainment.
To be on a cruise during sunset or after the city is blanketed under a moonlit night sky can be a magical experience. Dubai Dhow Cruises gliding along the beautiful setting of Dubai Creek or the Marina offer a different experience at different times of the day. If you are looking to see the intricacy of the architectural marvels, an early morning or an afternoon cruise may be a good idea for you. But avoid being on an open deck during the sunny hours of the day.
How much will a Dubai Dhow Cruise experience cost you?
---
Dhow cruises in Dubai are available in a wide price range and you can find a dhow cruise anywhere between 80 AED to 300 AED. While the cruises on the lower end offer all the basics that make up the quintessential dhow cruise experience, the more expensive cruises offer much more luxury and even services such as hotel pick-up and drop-off.
What are the different dinner and entertainment options on these dhow cruises?
---
Dinner cruises on the Dubai Creek and Dubai Marina are famous for providing one of the most unique culinary experiences in Dubai. Mixing a dining experience with a unique sailing and sightseeing cruise makes dinner cruises in Dubai extremely popular. Most dinners on dhow cruises provide a lavish 3-course buffet meal prepared with 5-star standards. Even before the buffet starts, when you arrive at the dock, you are usually welcomed with dates and coffee. The dinner cruise cuisine is as varied as it comes - Indian, Italian, Continental, Mediterranean, fruits, seafood and the likes. There are enough options for vegetarians and non-vegetarians alike.
When it comes to entertainment, many dhow cruises feature dance and singing events. As you're seated on your table and enjoy the sights of modern Dubai going past you, local artists will perform a range of local artforms for your entertainment. These dances include belly dancing, tanoura dancing, puppet shows and even magic shows; making the entire cruise experience pretty wholesome.
Headout's Top Cruise Recommendations
---
Dubai Marina Dhow Cruise with Dinner
What to expect
This cruise is vacation personified. Once you book the cruise, your pick up will be arranged and you will be taken straight to the pier from where your experience will begin. Right before you enter the dinner cruise, the smiling staff will welcome you with a cuppa of Arabic Coffee and fresh Dates. As the cruise eases into the Marina, the traditional Arabic music playing in the background creates an enchanting aura. You will then be greeted by a three- course sumptuous dinner. All too soon, the two-hour long cruise takes you back to the pier, from where you are transported to your hotel.
Dubai Creek Sightseeing Cruise

What to expect
The Dubai Creek Sightseeing Dhow Cruise arranges for a car to pick you up at your hotel and get you to the jetty. Once there, you will embark on an hour-long expedition into the old-world charm of Dubai's historic landmarks. Throughout the journey, an audio commentary will tell you all about the passing sights. The bustling Spice and Gold Souks will give you a glimpse of the centuries old trade. Other landmarks that you will witness include the National Bank of Dubai, Sheikh Saeed's House, and the Heritage Village- all of which are a fine example of this ancient city's architectural excellence.
5-Star Dinner Cruise on the Creek
What to expect
The cruise sports an outdoor deck, and an air-conditioned indoor deck, both of which offer unique experiences. The outdoor deck offers a starlit romantic setting while the air-conditioned indoor deck gives luxury another definition. The cruise begins at the jetty on the Dubai Creek. Once there, the cruise staff will welcome you with glasses of fresh fruit juices, dates and Arabian coffee. As you tuck in for the three- course gastronomical treat, the passing skyline of Dubai's oldest districts are sure to transport you back in time. What's more is that this cruise offers some world-class alcoholic drinks to go with the dinner.
Dubai Marina Sightseeing Cruise
What to expect
One of the highlights of this cruise is that its experience begins and ends at your place of stay. As you board the cruise, you will be instantly enveloped by the softly playing traditional Arabic music. The hour-long cruise will take you close to the water promenade of the Dubai Marina Yacht Club, and it will give you an opportunity to explore the remarkable buildings like the Infinity Tower, Marina Pinnacle, Sulafa tower and Ocean Heights. You will also cruise by the enchanting Palm Jumeirah and witness the many 5-star hotels that dot the water front.
Abra Ride in the Dubai Water Canal
What to expect
Abra is a traditional Arabic wooden boat that were earlier used as ferries by the local communities of the region to cross the creek. The hour and a half that you spend on this boat will take you to the heart of Dubai as you pass through landmarks like Festival City Mall, Business Bay, Ras Al Khor Sanctuary, Burj Khalifa, Waterfall Bridge, Sheikh Zayed Road, Hotel JW Marriott, and Hotel St. Regis among others.
Sunset at Burj Khalifa At The Top + Dhow Creek Dinner Cruise Combo
What to expect
This combo experience will get you access to At The Top - Burj Khalifa and a dinner dhow cruise. You will also have exclusive access to the top two floors of this iconic building. As the sun sets over the desert and Persian Gulf, you can witness the Dubai skyline changing into a glittery carpet. After sundown, you will be guided to the cruise where you will be welcomed with glasses of juice, fresh dates and coffee. You can then settle in for two completely amazing hours of food, drinks and merriment.
That brings our guide to selecting the best dhow cruise in Dubai to a close. Without a doubt, a dhow cruise experience when in Dubai is a must - bridging history with Dubai's modern luxury is what these traditional ships now do. If you're looking to purchase tickets for a dhow cruise in Dubai, then check out these dhow cruises on Headout and tick an item off your Dubai bucket list.