A favourite amongst artists, filmmakers, songwriters and dreamers from around the world — London is a blank canvas for those who imagine. With its poignant past dating back several centuries, today the city is a melting pot of varied cultures and diverse nationalities. What makes the city worth a visit is not just its splendid architectural spectacles or its lavish British cuisine that is today a favourite of many — but that London has something for everyone. Whether it is art, fashion, food or music — London will infuse these into its lively cityscape, no matter where you look. London in January sees an array of shopping arcades opening up after a hectic December, and the weather complies with it by remaining cheerful as well!
What makes London in January Special?
---
If you're wishing for some tranquillity away from the hustle, there couldn't be a better time to visit London than in the month of January. The noisy year-end parties and exhausting holiday crowd disappears leaving behind a pleasant aftermath and a cosy weather to curl up with a book.
The maximum city begins the year with the much-anticipated New Year's Parade on the 1st of January, which often ends the festive season on a high. While there is a good chance you may still be able to catch a couple of holiday decorations up in the city, be prepared for the cold that is carry-forwarded into the new year after December. London in January also sees various workshops, fairs and pop-up markets here and there. So, despite the lull that comes at the end of a vibrant December, London in January will still manage to surprise!
London Weather in January
---
With winter season still in transit, London in January experience a drop in temperature just like December. It gets dark sooner, and you can also witnesses some erratic rainfall during the day. However, despite this, there's some amount of humidity and it can range from 64% to 95%.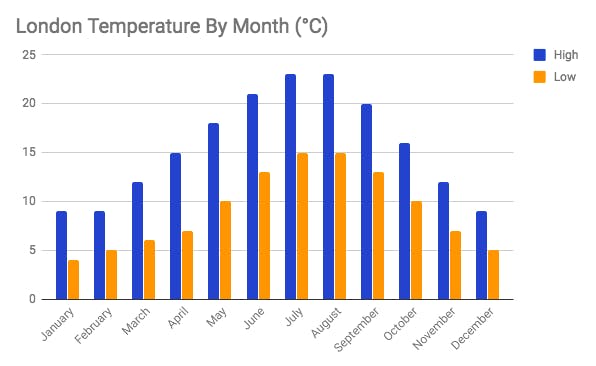 Visiting London in January : Things to do
---
The well-known Tower of London that reminds us of London's poignant history where a king, three queens and several nobles awaited their death. Today, it stands as a reminder and a museum that allows the public to catch a quick glimpse of what the yesteryears used to be.
The iconic glass building that shoots up into the skies of London provides exceptional views of the city. Whether you end up catching a breakfast or drink at one of its restaurants or simply viewing from the observatory — a visit to the The Shard is an experience is bound to stay with you for life.
Warner Bros. Harry Potter Tour
Fans of the series can get a spectacular look into the studio that created Harry Potter. The unique walking tour promises a magical experience, with lots of behind-the-scenes moments, larger than life sets, original costumes and untouched props. Rediscover nostalgia at Warner Bros. Studio like never before.
Trace back to the emergence of early gothic architecture that Westminster Abbey flaunts even today. Apart from being an important monument for Catholic pilgrimage, the abbey also narrates a rich history of its royal past. Over the years, it has witnessed a number of royal weddings, coronations and also funerals.
Take a luxurious cruise ride down the Thames river to look at the famous attractions from a brand new perspective. The splendour of London is best enjoyed in the comfort of the cruise boat, which is equipped with lower and upper decks, as well as panoramic windows for the best views.
Another notable royal residence, the Kensington Palace still remains home for the Duke & Duchess of Cambridge as well as the Duke & Duchess of Sussex. However, despite that, a part of it remains open to the public, where visitors can take a closer look into the royal family's life so far.
Shakespeare Globe Theatre
The aesthetic Shakespeare's Globe Theatre was made in 1599, but after being destroyed in a fire in 1613, it was rebuilt again. However, it was further demolished in 1944, until it was founded by Sam Wanamaker. Open to the public since 1997, today the theatre stands as a reminder of Shakespeare's playing company.
The mysterious and illustrious Stonehenge that draws countless speculations is a short trip away from the city of London. Tourists from around the globe are seen often making a day trip to the mystical monument that has been standing tall, without any explanation, from the past 5000 years.
West End shows are a common source of entertainment for London theatregoers. They usually feature a host of genres — including musicals, dramas and also children's theatre shows — and are also consumed as a tourist activity in London. The 'Theatreland' district also has a number of historic tales for those passionate about history.
Football fans can now hold their breath and make a visit into one of the iconic stadiums or London's sports museums. An exciting walking tour will acquaint you to your favourite star player's life up close, along with never-seen-before artefacts that are essential to the history of sports in London.
London in January : Events to Look Out For
--- London's New Year's Day Parade
January 1st
Watch a vibrant celebration featuring more than 8,000 performers lighting up the streets on the 1st of January. With a team of synchronised acrobats, dancers, cheerleaders and a marching band, the New Year's Day Parade is one of the most eagerly awaited events that bring the city to celebrate together. Watch Chelsea Vs Newcastle
January 12th, 2019
Witness an exciting Premier league match between Chelsea and Newcastle in a VIP setting. Be seated in the West Stand Upper Tier and watch in comfort from the edge of your seat. Relish an entire 3-course served menu, complimentary bar and post-match buffet to go with your ticket. Hogwarts in Snow at Warner Bros Studios
TBA
Experience a festive makeover of your favourite Wizarding School, and watch it transform into a winter wonderland this January. The stage that will be set up for the iconic Yule Ball will feature silver icicles and shimmering snow apart from the Christmas feast. Live your dream at the Warner Bros Studios this January! London Short Film Festival
11th - 20th January
January in London will give way to some of the most talented and budding filmmakers. Like every year, 2019 too will feature several categories along with Best International Short Film, Best Documentary Short Film, Best Animated Short Film and Best Experimental Short Film amongst others that simply shouldn't be missed out on!
London in January : 5-day Itinerary
---
Planning to spend 5 days during your visit to London in January? Here's our handcrafted 5 day itinerary to spend 5 memorable days in London.
Day

1

Day

2

Day

3

Day

4

Day

5
London January Essentials
---
London Weather in January
January will be cold, however, you will find it gets a little pleasant during the end of the month. Expect windy evenings and humid afternoons. The temperature can range from anywhere between 8 C – 9 C in the daytime and late nights may fluctuate up to 3 C – 5 C.
Where to Stay in London during January
Whether you're looking to enjoy the nightlife, or simply relax in the countryside, there's a neighbourhood for everyone in London. It is ideal to pick a spot closer to convenience if you're planning to be on the move during your stay. However, if you wish to simply stay and take in the cosmopolitan beauty, Covent Garden is a great place to stay. Here you may find shopping arcades and a chain of restaurants apart from being accessible from the city. If tranquillity is what you crave, staying in Hampstead will give you a good break away from the hustle of the city life, but will not deprive you of luxury.
What to Pack for Visiting London in January
London in January is still as cold as it is in December. Which means, it is essential to stay warm and covered up during the season. However, since with a luggage is not always feasible, it is also important to pack in moderation to keep it light. Pack gloves, scarves and boots that are absolutely essential and can help protect you from the chilly winds. A sturdy umbrella is a good idea as well, as it tends to rain erratically during this season. Above all, make sure you only carry clothes that are fit for the season.
Getting Around London in January
A good thing about London is that it is fantastically connected and accessible by several modes of transport. It boasts of a remarkable network of metro and underground railways apart from having a timely and fully functional bus service as well. The most trustworthy, and sought after way to get around in London is the Underground — or Tube, as it is referred by the locals. The Overground metro works similar to the Tube, and while it was created to bridge the gap that the Underground left, it generally ends up covering the same areas at the Tube. London also has Rail Services that have trains running in and out of London. Apart from these, the iconic Bus still remains the most-used public transport in London, and there is a bus route for almost everywhere you need to go.
Must Try Delicasies While Visiting London in January
--- Fish and Chips
When in London, you cannot miss out on fish and chips. Besides tea, this is the dish that forms the global opinion about British cuisine. This dish is made of fluffy chips, fried fish, and mushy peas with salt and vinegar.
Where to find : Bonnie Gull or Golden Union Fish Bar. Chorizo Roll
More than just a sandwich, the Chorizo Roll that is a favourite of Londoners is prepared using a Spanish sausage and piquillo peppers that spices it up. You're bound to find long queues near a Chorizo Roll stall, so make sure to get there early!
Where to find: Brindisa, Borough Market. Yorkshire Pudding with Roast
This British classic is lunch specialty and is typically quite heavy. As opposed to how the name sounds, this is not a dessert. A batter made of eggs and flour is baked in the oven and then softened with gravy. It is then had with roast beef, turkey, or ham.
Where to find : Joanna's and Mr. Fogg's Tavern. Oysters
A favourite of many and a year-round indulgence in London, oysters are considered to be an item of luxury. One can enjoy a light delicacy of oysters, with squeezed lemon and some brown bread. Pair it up with a glass of wine and a side portion of salad, and you're good to go!
Where to find: Wright Brothers Sausage roll
Brown, light and perfectly flaky — a sausage roll in London is perhaps a favourite go-to food for many. Freshly baked with chilli flakes, pepper and thyme, there are several restaurants as well as roadside cafes serving delectable sausage rolls .
Where to find: The Blue Posts
Tips for Visiting London in January
---
Wrap yourself in plenty of warm layers. January and February tend to be the coldest months in London
London in January still dons spectacular Christmas lightings up that can be a visual treat to look at.
Make sure you visit the Winter Wonderland at Hyde Park. Apart from being covered in snow, Hyde Park you can witness magical creatures made of ice greet you on your arrival and enjoy an exciting ice-skating session. Wonder at the city's skyline from on top of the Giant Observation Wheel!
Since hotels tend to be cheaper during the winter, you might be able to stay at a nicer place for less
Use a Visitor Oyster Card to get around London and save about 50% on commute.
Lace up your ice skates because London in January is a great time to make the most of its outdoor rinks.
Utilize The London Pass to get into around 60 attractions for free. Check for fast-track entry for some of those attractions.
London Theatre Tickets can be bought for less than half the price during the months of January and February. With their annual New Year Sale, you can get tickets for leading shows at £10, £20, £30 or £40 from 1 January until 15 February 2019.
Do not shy out of a little old-fashioned haggling at the London markets.
Open up your heart to the cafes and food trucks that serve healthy, filling food if you want to save some money.
Explore London by Months
---
Ready To Visit London in January?
---
Here are a few more London guides that will help you travel your London in January trip to perfection!