Located at 252 West 45th Street, the John Golden Theatre is a popular Broadway house. The theatre officially opened on February 24th 1927 with the production of Puppets of Passion. Designed in a Moorish style along by architect Herbert J. Krapp for Irwin Chanin, the theatre was originally called the Masque Theater. While the John Golden Theatre was designed to be a Broadway house, it functioned as a movie house in the late 40s and most of the 50s. Once the Shubert Organisation acquired the theatre, it went back to being used full-time for theatrical purposes.
The interior of the theatre boast a Spanish influence, with rough plaster walls, coiled columns, wrought iron fixtures, and ceiling arcs. With a seating capacity of only 804, the John Golden Theatre is one of the smallest venues on Broadway. Over its almost decade long existence, the theatre has been home to some truly exceptional shows, such as Beyond the Fringe, The Gin Game, Glengarry Glen Ross, Falsettos, Master Class, Avenue Q, A Doll's House, Part 2, and Three Tall Women.
Presently, the theatre is gearing up to host Hillary and Clinton, a show written by Lucas Hnath and directed by Joe Mantello. Also, here's a handy link to the seat availability and real time prices for different seats/dates for Hillary and Clinton on Headout.
Venue Details
---
Address: John Golden Theatre, 252 West 45th Street, New York
Opened: 1927
Seating Capacity: 804
Orchestra: 379
Mezzanine: 425

Seating Chart
Check out the John Golden Theatre Seating Chart here.
Hillary and Clinton - Playing At The John Golden Theatre
---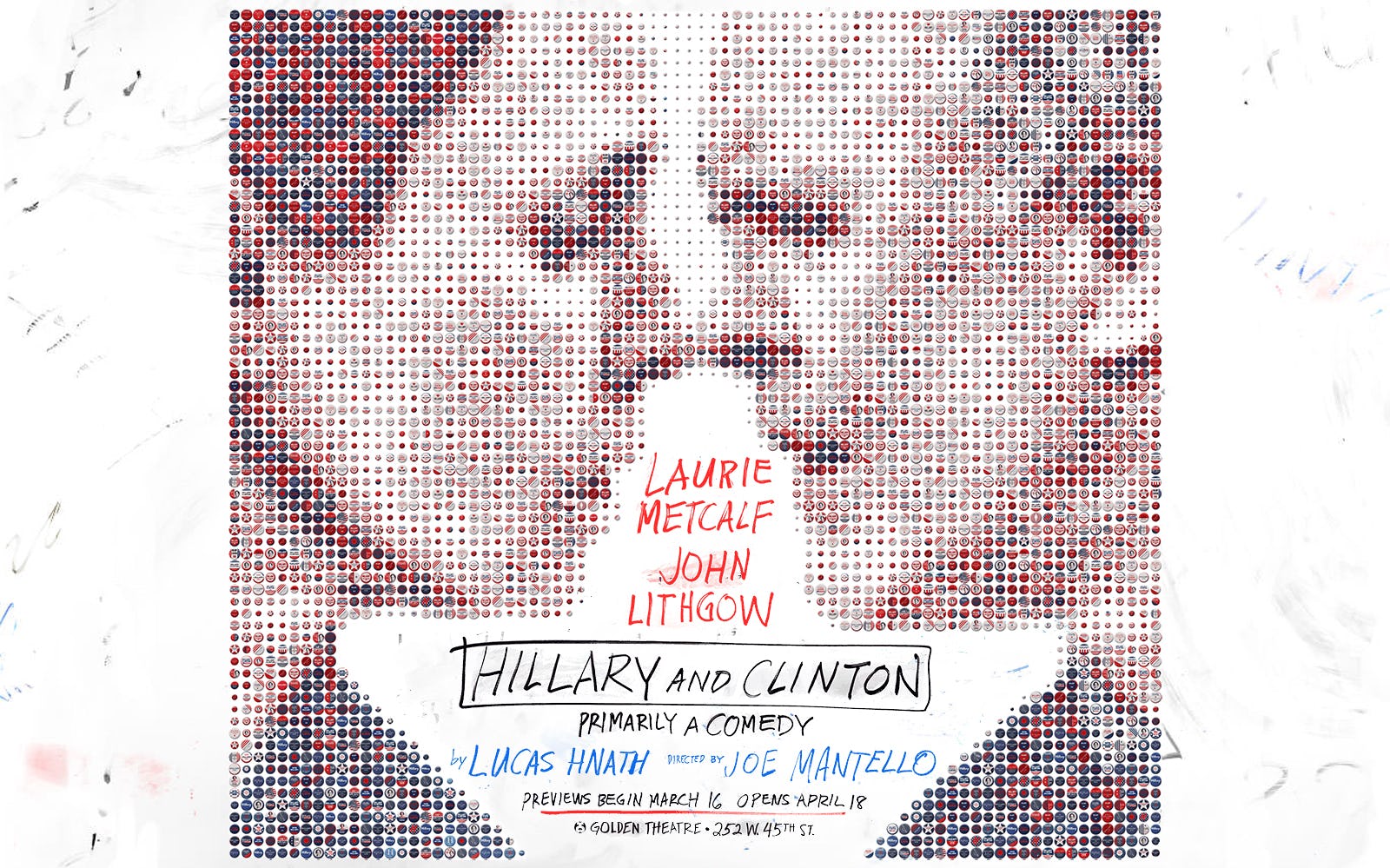 Recreating the fiasco of a presidential campaign run by Hillary Clinton in 2008, Hillary and Clinton promises to be a cracker of a show. It sheds light on how previous actions of politicans have a key role to play in generating desired impact and staying relevant during time of elections. Directed by Tony Award winner Joe Manganello and written for the stage by Obie Award winner Lucas Hnath, the show features a tremendous cast including the likes of Laurie Metcalf and John Lithgow enacting the roles of Hillary and her husband Bill Clinton, respectively.
The Story
In early 2008, the whole of America was in a fix between electing the first-ever black President or the first-ever woman President. Hillary Clinton, however, is having a tough time browsing all available options in an attempt to save her campaign. To make matters worse, there's a bit of a spat between her husband Bill Clinton (the 42nd President of the United States) and her campaign manager Mark Penn. Questioning gender disparities and the effect of marriage in a political career in the long run, Hillary and Clinton gives you a sneak peek into one of America's once-successful-now-falling-apart dynasties.
Cast
Leading Roles
Laurie Metcalf as Hillary Clinton
John Lithgow as Don Bowman
Peter Francis James as Barack Obama
Zak Orth as Mark Penn

Written by
Lucas Hnath
Directed by
Joe Mantello
Show Timings - mid March onwards
Tue & Thu - 7:00 PM
Wed & Sat - 2:00 PM & 8:00 PM
Fri - 2:00 PM
Sun - 3:00 PM
These timings may be subject to change during previews. Click here to check out the real-time seat availability and pricing for the John Golden Theatre.
Duration
TBA
Practical Information
---
Section Accessibility
Orchestra: Seating is accessible to all parts of the orchestra without steps. Wheelchair seating is in the orchestra only.
Mezzanine: Located on the second level, up three flights of stairs, 28 steps. Once on the mezzanine level there are approximately 2 steps per row. Entrance to the mezzanine is behind row D.
Handrails: Available at the end of every stepped seat row in the front and rear mezzanine.
Available Facilities
Wheelchair Accessibility: The John Golden Theatre is not completely wheelchair accessible. There are no steps into the theatre (where there are steps we are unable to provide assistance).
Restroom: The ladies and men's restroom is located in the lower lounge, down two flights of stairs (19 steps) from the orchestra level. Please note that wheelchair accessible restrooms are located in the adjacent Schoenfeld Theatre.

Water Fountain: Located in the lower lobby.
Assisted Listening Device:The Golden Theatre provides at least 10 infrared assistive listening devices for every performance at the theatre.
Payphone:: Located in the lower lounge. Accessible at 54", with TTY utility outlet and shelf
Handy Tips
---
The theatre provides unlimited access to downloadable audio description software for personal mobile devices. Theses will be available 4 weeks after the show's official opening night performance.
The use of cameras, recording devices, cell phones, beepers, and other electronic devices during the performance is prohibited.
The theatre is fully air conditioned and it can get pretty chilly inside. Dress appropriately and bring a pullover or jacket just in case.
Make sure you reach the theatre at least 30 to 45 minutes before your show timing. Latecomers will be seated at the discretion of management.
Since the theatre is not completely wheelchair friendly, make sure to book your tickets where there's no climbing involved if you or your companion use a wheelchair.
Getting There
---
The John Golden Theatre is located at 252 West 45th Street. The theatre is located in close proximity to one of the busiest and most popular destinations in New York City, Times Square. This means you'll have plenty of transport options to choose from. Here are some of the popular ones.
There are many buses and metro trains you can take to reach the John Golden Theatre. Buses plying to Theatre District are M104, M10, M27/M50, M6, M7 or M42. If you prefer travelling by subway, you can take the 1, 2, 3, 7, 9, N, R or S train to Times Square or the A, C, or E to Port Authority.
If you're travelling in your car, there are numerous paid parking spots close to the John Golden Theatre Some of the popular ones include Edison ParkFest, Impark, LAZ Parking, and Bright Management.
Restaurants near John Golden Theatre
---
1. Ellen's Stardust Diner: This multi-level, '50s-themed diner with singing servers has an expansive menu of classic American fare.
2.
Haru Sushi
: Lovers of sushi and Japanese cuisine, in general, should definitely give Haru Sushi a try.
3. The Palm West Side: This clubby eatery serves high-end steakhouse fare, seafood and diverse wines.
4. Russian Samovar: Get a taste of authentic Russian in Broadway at this iconic eatery with live piano music to accompany the delicacies.
5. Blue Fin: A classy restaurant which serves pre-theater seafood and sushi served in a trendy setting with a glass-enclosed bar.
6. Carmine's: NYC's legendary family-style restaurant offering the most delicious Italian food. Be prepared for gigantic proportions similar to ones your grandma would serve you.
Check out our theatre district restaurants guide for even more fantastic dining options in and around Broadway district. It has everything you're looking for. And more.