As the capital of Italy's Tuscany region and the birthplace of the Renaissance, the beauty and rich history of Florence definitely requires more than a few days to soak in. However, if you are looking to escape the hustle and bustle of tourists, a day trip from Florence to Siena is right up your alley. Siena is the perfect spot – not only is it just over an hour away, it is also a World Heritage Site that's best known for its art, cuisine, medieval history and culture, and museums. This Tuscan town is definitely worth a visit if you're in for the full Italian experience!
Quick Jumplinks to Navigate the Guide
Florence to Siena Day Trips
---
Siena City Visit with Dinner at a Wine Estate
Begin your tour in the late afternoon with a serene and peaceful drive through the Italian countryside and Chianti vineyards to Siena.
Discover the Siena Cathedral, a medieval church with rich Italian Gothic Architecture. Visit the Torre Del Mangia, or 'Tower of the Eater', and the beautiful Piazza Del Campo or Campo Square, as you take in the gorgeous medieval landscape of Siena.
Indulge in an authentic Italian feast, complete with wines from the Chianti vineyards, at a wine estate in the heart of Chianti – the perfect ending to a spectacular day!
Tuscan Adventure: San Gimignano, Siena, and Pisa
Drive through the lush and beautiful landscape to your first town, Pisa, where you'll get to admire the Cathedral, Camposanto Monumentale, and best of all, the famous Leaning Tower of Pisa!
For lunch, stop by at a traditional Italian farmhouse nestled in a vineyard for an authentic Italian meal.
Explore the cobbled streets of San Gimignano, a medieval Italian village.
What to See in Siena
---
Piazza del Campo: This is the city square of Siena and is known for its beautiful architecture. Built on the site of a Roman marketplace, the square is lined with trendy cafes and restaurants that are among the best places to eat in town. The famous Palio di Siena or traditional horse race is held twice a year around this square. Siena Cathedral: This medieval church is located in a piazza above the Piazza del Campo. Built between 1215 and 1263, it contains artistic works by Donatello, Pisano and Michelangelo, and is different from Florence's cathedral in that its interior is richly designed and decorated, and even has frescoes by Pinturicchio. This stunning Gothic piece of architecture also houses the Piccolomini Library and the Chapel of St. John the Baptist. Don't miss the intricate mosaic floor, the Chigi Chapel, and the beautifully designed pulpit!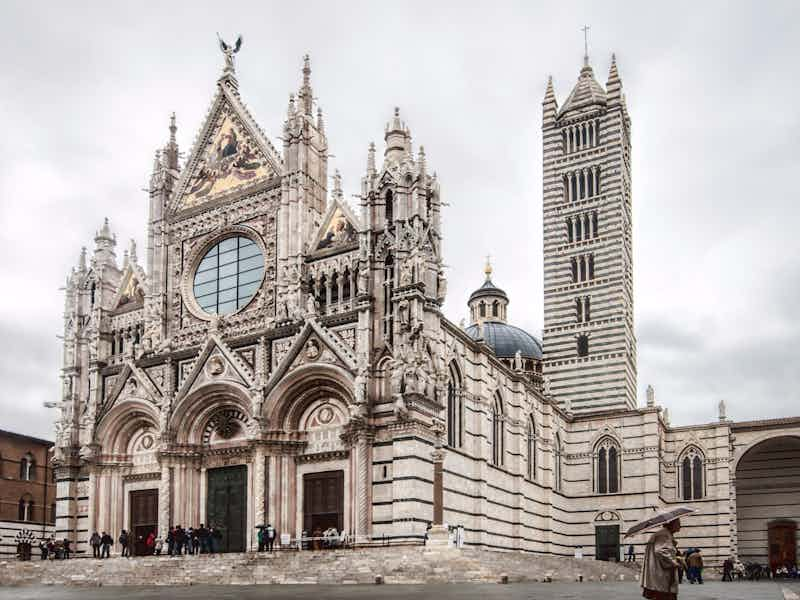 Torre del Mangia: Torre del Mangia is a 102m tall tower, located in the Piazza del Campo, and was supposed to be around the same height as the Siena Cathedral to signify the equivalence of power between the church and the state. The name of the tower means 'Tower of the Eater', referring to its first bellringer, Giovanni di Balduccio, nicknamed Mangiaguadagni ('eat-the-profits', or 'profit eater') for his gluttony and idleness. Basilica of San Domenico: Also known as the Basilica Cateriniana, this basilica is known for its splendid Gothic appearance, and contains several relics of St. Catherine of Siena. Built around 1226 AD, it is one of the most important basilicas in the city.
The Civic Museum: The Museo Civico is located on the first floor of the city hall, the Palazzo Publico. It features frescoes and paintings that depict the history of Siena, and also of its culture and traditions. Admire the famous Maestà in the Sala del Mappamondo or 'World Map Room', depicting the Madonna with the child surrounded by angels and saints and protecting the city; the Buon Governo in the Sala dei Nove; and the beautiful frescoes dedicated to Sienese Pope Rolando Bandinelli Paparoni in the Sala di Balia. Planning Your Visit to Siena
---
It is best to consider these factors before booking a trip from Florence to Siena:
Time: The first thing you've got to think about is how long have you got to explore Siena? If you can spare a day, it's best to take a day trip, as a day trip will show you a side of Siena that is impossible to see in a half-day trip. Additionally, it is better to take a day trip to Siena rather than spend more than a day there, as a day trip will show you all the main sights without wasting any time.
Guided/Self-Guided: The tour to San Gimignano, Siena and Pisa has an option to include a tour guide. While this option may be more expensive, it is also more convenient, especially in the small towns of Italy where not everyone may speak English. You will also get tips and suggestions form your guide as to where to eat and what to see, and you may also learn more about the history of the places you visit, hence saving you a lot of hassle on your trip!/li>
Season: The best months to visit Siena are April, May, June, September, and October. Springtime in Tuscany can be very pleasant with beautiful and lush landscapes and charming showers of rain. Autumn has similar weather, though perhaps a little sunnier, and is a great time to go exploring.
How to Get to Siena from Florence
---
1. Bus – There are two available options: Rapida (the fast bus), which travels non-stop from Florence to Siena for about 1 hour 15 minutes; and Ordinaria (the slower bus), which makes two stops on the way and takes 1 hour and 30 minutes. Usually, two buses leave every hour.
2. Train – There are up to 16 trains that traverse this 85 km distance, which leave once per hour. Weekends and holidays typically mean less frequent service, and sometimes longer travel times.
3. Car – One can hire a car and drive to Siena, taking around 1-2 hours. However, this option may prove to be expensive.
4. Tours – With a pre-booked tour, transport is covered in the cost of the tour, and you also get to explore Siena and surrounding areas extensively, in a hassle-free manner. This definitely makes for an easier option if you are travelling with children, or simply want a relaxed holiday!
Tips
---
Be sure to try out the local bakeries – not only are they reasonably priced, but they are great places to try out some fresh bread, pastries and sweets!
Siena is a great place to walk around and explore, but the hills are a bit steep – be sure to carry your walking shoes!
The city has a pretty efficient public transportation system - Pollicino buses - that cruising the streets from early morning until late at night. Pick up tickets at the kiosk prior to travel to save money.
If you are visiting Siena in the summer, don't miss the Palio, a bareback horse race held every July 2 and August 16 on Siena's Piazza del Campo.
Other Day Trips from Florence
---
Florence to Cinque Terre
The Cinque Terre region of Italy consists of a collection of ancient seaside villages off the coast of the Italian Riviera. Travel to to this World Heritage Site in a luxury AC coach, and explore five little hamlets and the cliff villages along the Ligurian coast. Dine at a traditional Italian restaurant and indulge in a simple, classical lunch, amidst the backdrop of mountains and hills. Lastly, enjoy a scenic boat ride across the Cinque Terre bay!
Recommended Experiences
• Cinque Terre Excursion with Classic Lunch