Ensconced in the Eiffel Tower's spectacular metal structure are two pockets of culinary heaven - Eiffel Tower restaurants Le 58 Tour Eiffel and Le Jules Verne. With exquisite views, these unique eateries provide guests with the rare opportunity to dine atop one of the world's favorite landmarks. Sip on a glass of wine as you watch the sunlight bounce off the metallic lattice of the Eiffel Tower, savor a traditional French meal, and witness the City of Lights sparkle in the night sky.
Aside from outstanding views, pairing your Eiffel Tower visit with a meal comes with several other perks. From how dining at the tower can help you skip the long lines to which menu items can't be missed, discover everything there is to know about the Eiffel Tower restaurants with our in depth guide.
For more tips on how to choose the best Eiffel Tower experience, check out our Ultimate Guide to Planning the Perfect Eiffel Tower Visit.
---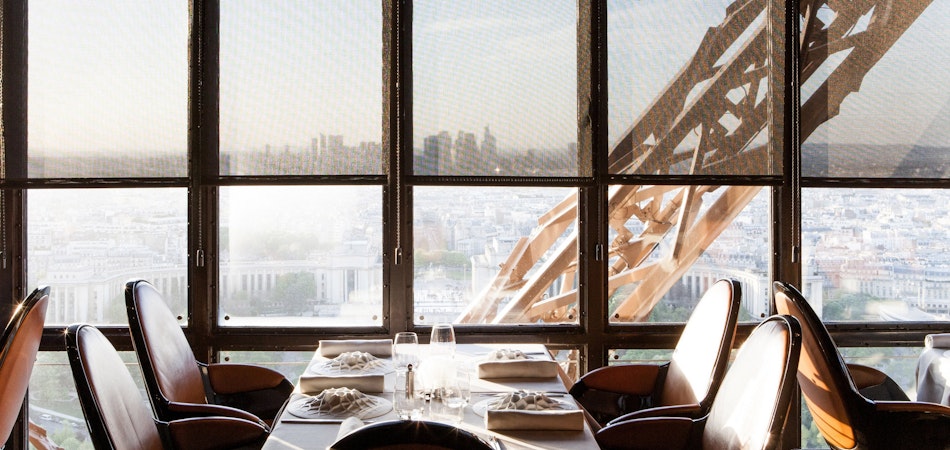 About the Eiffel Tower Restaurants
---
Located on the tower's first level, 58 meters high, Le 58 Tour Eiffel is the less formal option of the two. Open for lunch and dinner, the restaurant offers chic, picnic-style lunches as well as traditional, 3-course French meals. Situated on the second floor is the Eiffel Tower's Michelin star Le Jules Verne restaurant. Sophisticated and classy, a meal here offers, arguably, the best view in the entire city. Run by world-famous chefs, both establishments offer culinary experiences unlike anywhere else in the world.
Le 58 tour Eiffel
---
Traditional French Cuisine with a contemporary twist, Le 58 Tour Eiffel serves up outstanding culinary creations from renowned chef, Alain Soulard. The décor is marvellous and reflects the mood of the tower itself. With expansive windows, the sun enters the venue beautifully during the day, creating a chic and vibrant ambience perfect for a day out with family and friends. In the evening, as the sun sets and the city lights up, a romantic atmosphere takes over, emulating the perfect model for a date or formal sit down dinner.
Menu Highlights
Le 58 Tour Eiffel's most popular meal is its chic, picnic-style lunch. It includes a starter, main course, dessert, and a soft drink or glass of wine or beer. The menu changes every 6 months, incorporating French favorites like duck paté en croûte with thyme, cabbage and apple salad, and trout fillet à la plancha with guanaja chocolate mousse with pralines for dessert.
Dinner is an extravagant affair, boasting delicious dishes created by Chef Alain Soulard and his team. A typical meal includes a starter, main course, cheese plate, dessert, coffee, and wine. Our favorite dishes include the creamy chestnut soup with cep mushrooms and grisons dried beef, and the Haute-Provence style spelt risotto. The mille-feuille with light vanilla cream and salted butter caramel dessert is also to die for!
Price Range
The restaurant is moderately expensive. Lunch starts at €37 per person and €14 per child. Dinner starts at €94 per person and €20 per child.
Dress Code
The restaurant has a vibrant family atmosphere during the day. Smart casual is the recommended attire for lunch. In the evening, sophisticated and elegant semi-formal wear is suggested.
Le Jules Vernes Restaurant
---
Le Jules Vernes Restaurant sits like an exquisite jewel atop the Eiffel Tower. Located on the second floor, it offers a more upscale and exclusive gourmet experience. The décor, designed by Patrick Jouin, is modern and elegant. A feast for all the senses, even the 'structured plates' are iconic, bringing an aura of sophisticated charm to the restaurant. The décor imbibes the color palette of the tower itself. During the day, guests can enjoy naturally bright ambience. By night, a muted, sensual ambiance takes over.
Menu Highlights
Le Jules Verne is a Michelin star Eiffel Tower restaurant run by Alain Ducasse - a talented chef who has earned 18 Michelin stars thus far in his career. Le Jules Verne offers traditional French cuisine with a twist, taking guests through an elaborate 5 or 6 course meal, available for both lunch and dinner.
Star dishes include the preserved duck foie gras quince, the seared sea scallops with cauliflower and gold caviar, and the fillet of turbot served with winter vegetables in a tangy reduction. For dessert, choose between the crispy 'tower nut', chocolate and the bitter citrus, campari granité.
Price Range
As you might expect, this restaurant is fairly expensive. A 5-course meal starts at €190 per person, while a 6-course meal starts at €230 per person. There is also a 3-course lunch menu, available on weekdays, which starts at €105 per person.
Dress Code
Le Jules Verne requires semi-formal to formal attire. T-shirts, shorts, and sportswear are not allowed.
---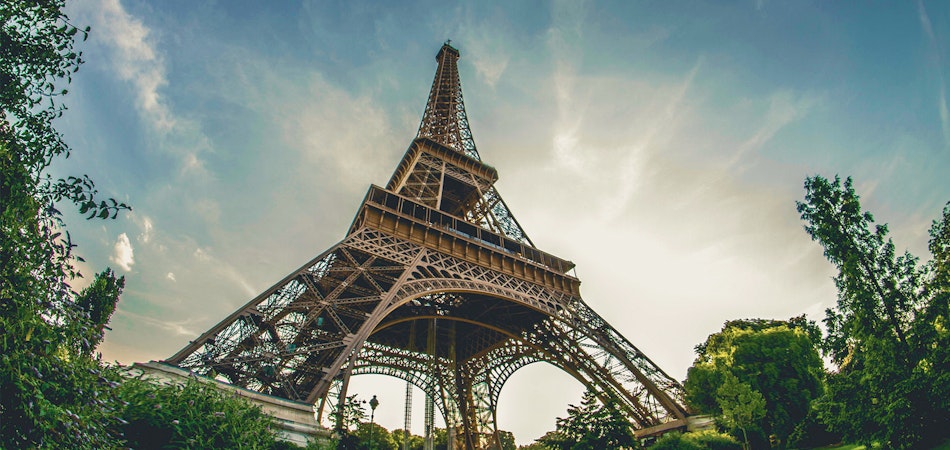 Is It Worth It? - The Pros and Cons of Pairing your Eiffel Visit with a Dinner
---
The Pros:
1. Skip-the-Line Access to the Tower
The Eiffel Tower is one of the most visited tourist attractions in the world; as a result, entry lines can leave visitors waiting for up to 3 hours during peak season. Fortunately, booking a meal at the Eiffel Tower comes with a huge perk - you get skip the long entry line! Each restaurant has its own elevator, reserved only for restaurant guests. This means that a dinner reservation guarantees skip-the-line access.
My husband being the romantic, purchased tickets to take me to Dinner at Eiffel Tower. Ohhh I was sooooo excited. As we had pre-booked tickets, we skipped the huge line and up the lift we went. Upon entering 58 we were greeted by a big line of waiters, ready to show us to our seats. Perfect - we got a window seat. I would do this all over again and again. I highly recommend - if you are travelling all the way to Paris - this is a MUST DO. You will not be disappointed.
Archiekitten, TripAdvisor, December 2017
2. Exclusive Dining Experience
The Eiffel Tower restaurants provide guests with the best view in all of Paris. Meals run on the expensive side, but when you factor in the advantage of skipping the long entry line and the overall once in a lifetime opportunity of dining in the Eiffel Tower - the experience is well worth the cost.
From the second you pass under the shadow of the Eiffel Tower you know you are in for a magical culinary experience. The view and food was incredible. Very expensive but worth it for a once in a lifetime experience.
Bacchus49, TripAdvisor, Jan 2018
3. Authentic French Dining
Both restaurants serve up delicious food prepared by renowned chefs. In fact, the Michelin star Le Jules Vernes is run by Alain Ducasse - a talented chef who has earned an impressive 21 Michelin stars in his career thus far! Both restaurants offer traditional dishes, reinterpreted by their masterchefs.
This is an Alain Ducasse Michelin star restaurant in the heart of arguably the most romantic city in the world, with exceptional food and service. What more need I say?

Having tried a couple of the best restaurants in France, we're confident to say Le Jules Verne was up to par. We did the tasting menu, and the quantity and quality did not disappoint, especially given the price point (relative to some of the other Michelin star tasting menus). In short, it's a filling, exquisite meal at an expensive but reasonable price.
Jeff W, TripAdvisor, Jan 2018
---
The Cons:
1. Not for Budget Travelers
Le 58 Tour Eiffel is the cheaper of the two Eiffel Tower restaurants, yet the cost of lunch starts at around €42. This is a rather expensive meal if you're on a tight budget. However, if you're anyhow thinking of getting elevator access tickets - it's well worth going for this option. For only €6 more than any online skip-the-line tickets, you can enjoy priority entry, plus a meal with a view.
2. Limited Availability
Tickets for this dining experience have to be booked well in advance. Reservations fill up weeks in advance, so if you're unsure or wish to go there on an impromptu plan, it's not likely that you'll get a table. So do book ahead if you're interested in this experience.
---
Eiffel Tower Meal Combo Experiences
---
A meal at one of the Eiffel Tower restaurants is an incredible experience in itself. But add a romantic cruise on the Seine River, a tour of the Louvre Museum, or, toss in a thrilling cabaret show - now you've got yourself an even more unforgettable experience!
Eiffel Tower combo tickets offer all-inclusive experiences, at a great cost. If you were to book each experience a la carte, you'd end up having to pay a lot more - especially if you opt for skip-the-line tickets, which you'll anyhow get with a combo ticket.
Lunch at the Eiffel, Paris City Tour and a Cruise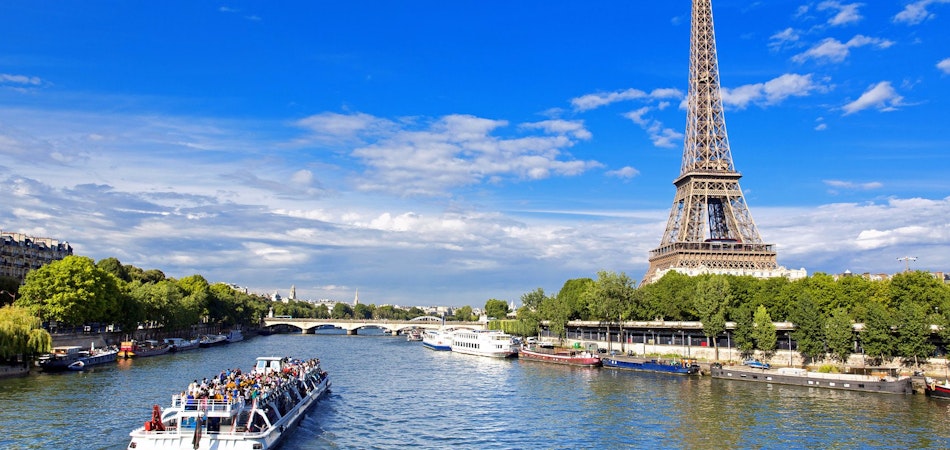 Experience one of the city's most romantic monuments inside and out. As you make your to the Eiffel Tower, bypass the long queue with your priority access entry. Enjoy an unforgettable 3-course dinner at the 58 Tour Eiffel restaurant on the first floor of the Eiffel Tower. Afterward, embark on a relaxing hour-long cruise down the Seine River and catch stunning views of Paris' monuments as they become illuminated by the moonlit sky. This combo ticket promises a magical, once in a lifetime evening.
Dinner, Cruise and Le Lido Cabaret Show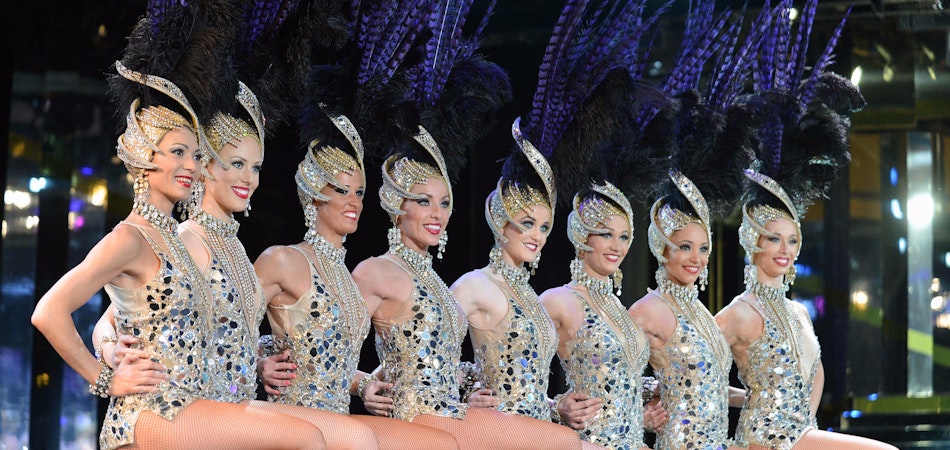 For those looking to experience Paris after dark, spice up your experience with some live entertainment at one of the city's most infamous cabarets. Sparkling sequins, bright feathers, an explosion of lively energy, and fantastic performances, it's the perfect way to finish off the night. Pop a bottle of champagne and enjoy this quintessential Parisian affair.
Dinner at the Eiffel Tower + Seine River Cruise + Moulin Rouge Show
€244
• Dinner at the 58 Tour Eiffel restaurant (drinks included)
• Priority entry to the first floor & stair access to second level of the Eiffel Tower
• 1-hour Bateaux Parisiens Seine River Cruise (flexible ticket)
• Moulin Rouge Show
Practical Information
---
Open Hours
Mid-June to early September
9 AM - 12:45 AM, last elevator ride to the top leaves at 11 PM
Similar stair access timings
Rest of the year
9:30 AM - 11:45 PM, last elevator ride to the top leaves at 10:30 PM
Stair access timings: 9:30 AM - 6 PM
Getting There
There is no shortage of ways to get to the Eiffel Tower. The Metro has two lines that have stops in close proximity to the Eiffel Tower i.e Line 6 and 9. Additionally, you can use the RER Train and get off at the Champs de Mars station.
Buses 82, 42, 87, and 69 operate to the Eiffel Tower. You could also get to the Tower by using any of the Batobus boats. This means of transport gives you a different view of the Tower from the water.
---
A sunny afternoon, a dusky twilight, or a sparkling night, no matter what time it is, a meal at one of the Eiffel Tower restaurants guarantees an unforgettable experience. Feel like royalty with exclusive priority access, savor fabulous French cuisine by renowned chefs, and enjoy panoramic views of one of the world's favorite cities.
For more tips on how to choose the best Eiffel Tower expereicne, check out our Ultimate Guide to Planning the Perfect Eiffel Tower Visit.
---