Everybody likes extravagant dreams. They show you lovely things that are too good to be true. They rid you of all your inadequacies and make you look resolute and unyielding. Now take all of these qualities and create an entire city out of it. That is Dubai for you. The city is always busy working on the next absurdly magnanimous project, and it has made success a habit. In this guide, we'll let you know in detail if Dubai in March is as exciting as it sounds!
Dubai is for the shopaholic, the party animal, the hardcore professional, and the social butterfly in equal measure. The city maintains a consistently high standard of living throughout the year, and therefore visiting Dubai in March is not unusual. Since summers are yet to begin, March often has pleasant weather and should make for a great time to visit Dubai.
What makes Dubai in March special?
---
Dubai has positioned itself amidst the desert, which means it doesn't get the traditional spring season. However, by Dubai standards, the weather is quite pleasant in March. Dubai has numerous attractions that you must hit and even with a week's time, covering the entire city can be very hectic. As such, the relatively mild weather and lack of rainfall will come in handy. Sandstorms are a major feature in the deserts, but in Dubai, they are scarce especially in March.
In Dubai, it's shopping season all year round. But with the holiday season having just got over, it is likely that you will enjoy a comparatively calmer shopping experience. The wildly popular attractions in the city tend to become a little less packed, making it easier for you to get reservations and bookings. Accommodations also are a bit more affordable in March. Overall, Dubai in March sounds like a hoot to us. Read on to find out which spots you must visit if you are in the city in March.
Dubai Weather in March
---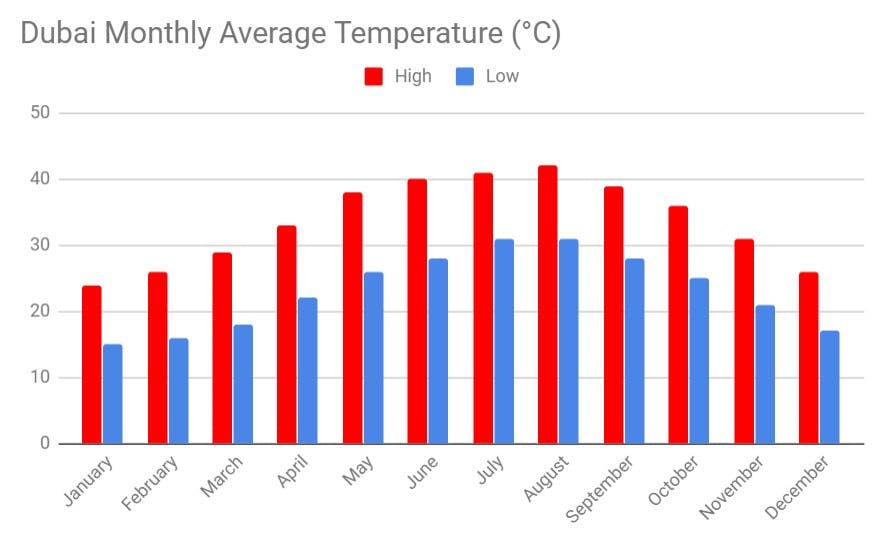 Dubai in March : Things to do
---
The tallest building in the world, Burj Khalifa took 6 years to be completed in its entirety. This 828-meter tall megastructure stands as a testament to the city's go-getter attitude. The observation decks in the building are immensely popular. The month of March in Dubai is characterized by low humidity, and thus it is the best time to catch a birds-eye view of the city from the top of the Burj Khalifa.
March Timings
Sunrise - 5:30 AM – 8:00 AM
At The Top – 8:30 AM – 11:00 PM

1 Sheikh Mohammed bin Rashid Blvd, Dubai
United Arab Emirates
Getting There ›
Dubai Frame is one of the most conceptually sane structures in the world. Its rectangular photo frame like structure aims to provide a view of the city's past, present, and future. There are two galleries that exhibit the past and future of Dubai, while an observation deck at the top of the frame warrants a look into the present state of the City of Gold.
March Timings
Daily, 9:00 AM to 9:00 PM

Al Kifaf, Zabeel Park Jogging Track, Dubai,
United Arab Emirates
Getting There ›
Dubai won't disappoint you if you are visiting with family. Dubai Dolphinarium is home to some of the most exciting family entertainment activities in the city. Apart from the dolphin show, the seal show and the bird show are also worth catching. In March, the Dubai Dolphinarium is expected to be less crowded than usual.
March Timings
Dolphin shows at 11:00 AM, 2:00 PM, 6:00 PM
La Perle by Dragone is a performance show hosted in a theatre in Dubai that boasts of a unique 270-degree viewing angle for the audience. The show features a lineup of 65 skilled acrobats executing complex and striking stunts an stage. This creator of this show is Francis Dragone, whose claim to fame was Cirque du Soleil. This show is very popular, and therefore the decreased tourist footfall in March could be a blessing in disguise.
March Timings
Tues - Sat 7 PM & 9 30 PM
Established in 2015, Garden Glow is a theme park that utilizes recyclable material to create works of fine art. The works glow by the night giving the entire park a surrealistic aura. The park also hosts numerous live performances. Additionally, there is a separate kids' zone with fun interactive activities. The impressive palette in the food pavilion is also worth mentioning.
March Timings
Daily, 4:00 PM – 11:00 PM (open till 12 AM on Fridays)
Zabeel Park, Gate No - 6 & 7 Area - B, Dubai,
United Arab Emirates
Getting There ›
This experience in Dubai adds a new dimension to the concept of fine dining. As you are served a sumptuous meal, a hydraulic crane takes your table 50 meters high. With the spectacular Dubai skyline before you and your seat high up in the air, you'll get to know how thrilling dinners can be. In March, the clear air will ensure a splendid birds-eye view of Dubai.
March Timings
Daily from 2:00 PM – 11 PM

This $1 billion indoor theme park is the largest of its kind in the world. Sprawled across an area that could fir 28 football fields, IMG Worlds of Adventure is divided into four themed zones. There are over 20 attractions and about 28 eateries within the park premises. As with any other theme park, it's better to visit when the crow is thinner, and therefore, March is the ideal time to visit IMG Worlds of Adventure.
March Timings
Sun to Wed - 11 AM to 8 PM
Thurs to Sat - 11 AM to 10 PM

E311 Sheikh Mohammed Bin Zayed Rd., Dubai,
United Arab Emirates
Getting There ›
When in Dubai, you must experience this nostalgic cargo boat ride. Over the course of an hour, your serene boat ride offers you full English commentary as you explore Dubai from a unique perspective. If you opt for an evening tour, you get to enjoy music and dinner as well, during the cruise. A tour in March is likely to be more comfortable than any other time of the year.
March Timings
Daily, 8:30 PM – 10:30 PM
Deira Creek Opposite Radisson Blue Hotel
Dubai, United Arab Emirates
Getting There ›
Dubai may appear spic and span from the ground level, but its location adjacent to the desert makes for great minimalistic scenery from the sky. Get your rush of adrenaline by diving from one of the special flights. Catch a stupendous aerial view of Palm Jumeirah while gliding your way down and register an adventure of a lifetime.
March Timings
Daily from 10:00 AM to Sunset
Another recommended experience for your time in Dubai is the desert safari. You can see the sunset beyond the horizon (at ground level), take a camel ride, snap photos in traditional Arabic outfits while enjoying an unlimited supply of beverages and smoking shisha. Also, don't miss out on the belly dances! With weather-related interruptions like sandstorms highly unlikely, March is the best time to opt for the desert safari.
March Timings
Daily from 8:30 AM to 10:00 PM, overnight Desert Safari – 4:00 PM – 9:00 AM
Dubai in March : Events to Look Out For
--- TASTE OF DUBAI
TBA
Taste of Dubai is a major culinary affair held in the city in March. The festival lasts three days and features stalls of some of the biggest restaurants and eateries in Dubai (and beyond) . They put out their menu for visitors to take a look and sample. Renowned chefs and restaurateurs conduct workshops, presentations, and talks. It is, by all means, an elaborate foodies' paradise. 11TH ANNUAL FESTIVAL OF LITERATURE
March 1-9, 2019
Dubai Festival of Literature vows to unite people irrespective of their age based on the love of books. The festival features eminent authors, musicians, filmmakers, artists, from around the world. The event is packed with debates, competitions, performances, and talks. If you are artistically inclined, you simply cannot miss this. SIKKA ART FAIR
March 16-23, 2019
This commendable initiative is held under the matronage of Her Highness Sheikha Latifa Bint Mohammed bin Rashid Al Maktoum. The event revolves around various artist-led exercises and enterprises. The affair features a colorful itinerary of music, films, and art from around the world. Sikka Art Fair is usually held in the Bastakiya area in Old Dubai. DUBAI WORLD CUP
March 30, 2019
You may call it an affliction, but when in Dubai, you can't help but indulge in this premier horse racing event. You could say that this is the ultimate global stage for the top jockeys to ply their trade. Celebrities, politicians, and media personnel from all corners of the globe gather at the Meydan Racecourse for this annual gala event. STARS OF AMERICAN BALLET
March 8, 2019
Dubai is a melting pot of global cultures, and as such, it offers experiences from different parts of the world. On Friday, March 8, 2019, two exclusive shows will be staged at the Dubai Opera House. With big names like Christopher Wheeldon, George Balanchine, and George Gershwin slated to be involved, these shows represent an opportunity of a lifetime. RUN THE TRACK
March 23, 2019
Run the Track is a commendable initiative in which participants of all abilities are encouraged to engage. The run is held over three separate distances on a traffic-free road. Apart from awarding medals for all finishing participants, a raffle is held in which participants can win spot prizes. Getting this experience under your belt will surely equip you with a few interesting stories to tell family and friends.
Dubai in March : 5-day Itinerary
---
5 Days in Dubai Itinerary
Dubai March Essentials
---
Dubai Weather in March
The month of March in Dubai sees an average high of 27°C/81°F and an average low of 17°C/63°F. The month starts off with pleasant weather and the temperature keeps steadily increasing. Only half an inch of rainfall is expected in Dubai in March. Humidity is very low and there is moderate breeze throughout the month. Sandstorms are also scarce in the month of March.
Where to Stay in Dubai during March
Dubai attracts a fair amount of tourists from all over the world, and therefore there is no scarcity of classy accommodation for every budget. There is no particular area that you should prefer to live in as the attractions in Dubai are evenly spread and within 15-20 minutes of cab rides. Here are a few hotels that you may choose from depending on your budget:
Luxury Hotels - InterContinental Dubai Festival City, Atlantis, Shangri-La Hotel
Mid-range Hotels - Four Points by Sheraton Sheikh Zayed Road, DoubleTree by Hilton, Aparthotel Adagio Premium Dubai Al Barsha
Budget Hotels - Holiday Inn Bur Dubai, J5 Rimal, Sea View Hotel
What to Pack for Visiting Dubai in March
March provides very less cloud cover and dry weather in Dubai. Remember to pack enough sunblock to last the entire trip. Carry a water bottle with you for your walks. You'll need a drink or two, even after sunset. There are no rules regarding clothing in Dubai but we'd recommend dressing to suit the occasion. Try to pack sufficient loose-fitting clothes. Exposing the skin too much won't be a good idea, despite the sunblock. You may give the umbrella and waterproof clothing a miss.
Getting Around Dubai in March
The first thing you must do after reaching Dubai is getting a Nol Card. This is a unified fare card that can be used on all means of public transport. Apart from buses and cabs, taking the Dubai Metro is a trustworthy way of commuting. After sundown, getting a cab is recommended. Dubai is made up of a large section of working population. Therefore normal work hours on weekdays are not a very good time to avail public transport. Traffic grinds to a halt on Fridays and Saturdays as well.
Dubai in March - Must Try Delicacies
Khanfaroosh
A kind of hot cake that is served with tea or coffee, Khanfaroosh was once meant exclusively for joyous occasions. Cardamom, saffron, and rosewater are the major flavoring ingredients in this preparation. A proper Khanfaroosh is generally light and fluffy.
Where to order: Al Fanar Restaurant & Cafe, Dubai Festival City Al Machboos
Emirati dishes are usually loaded with spices, as is the case with Al Machboos. A zesty dish that is prepared with shrimp, chicken, or lamb at the center, flavored with lemon, and onion, Al Machboos is a traditional (and extremely popular) dish in Dubai.
Where to order: Arabian Tea House (Meena Bazaar) or The Majlis (Dubai Mall) Shish Tawook
This famous Arabic dish is now known all around the world and comes in several versions. It consists of the signature kebab with an Emirati twist. It is commonly served with lean bread which enhances its flavor. Try it with a Lebanese dip, pickles, and fries to get the most out of the dish.
Where to order: Grand Barbeque Restaurant, Al Hudaiba Shirin Polo
This is an eccentric traditional dish in Dubai. Basmati rice is cooked with currants, carrots, raisins, and nuts and then topped with chicken. A thick tahdig crust is a significant presence in this dish. The dish is often eaten alongside a portion of pistachio ice cream.
Where to order: Farsi Restaurant (outlets in Business Bay & JLT) Knafeh
The Queen of Arabic desserts, Knafeh is the ultimate delicacy for the one with a sweet tooth. This is a sticky pastry constituting of gooey sweet cheese and then topped with saffron and chopped pistachios. This dessert, if you ask us, is a must try.
Where to order: Something Baked (JLT) or ZouZou (Jumeirah 1)

Tips for Visiting Dubai in March
---
It is better to make reservations for Burj Khalifa sky deck observation a month in advance.
Age, height, and weight restrictions apply for adventure sports activities like skydiving. Please make prior inquiries.
Free parking is available for Run the Track event close to the race track.
There is a long list of forbidden acts while availing public transport in Dubai, including, but not limited to chewing gum, drinking water, and taking a nap.
Dubai is known for its notable lack of sidewalks and pedestrian crossings, especially in the older quarter. You may even need to take a cab to cross the road.
If you are on a stringent budget, consider having your meals in Old Dubai.
Explore Dubai By Months
---
Planning to Visit Dubai?
---
For more Dubai information, here are some helpful quick links!