Dubai is the possible city, where imagination meets reality resulting in the world's most extreme sights and experiences. Just when the world is settling down after the holiday buzz, Dubai knows how to kick-start the revelries in the New Year. Dubai in January is all about basking in the sun and enjoying the winter without huddling up in warm clothing and trudging in the snow. The perfect weather calls for adrenaline boosting activities like adventure sports and swiping cards at the Dubai Shopping Festival! From shopping to sightseeing, Dubai in January promises to be the best travel destination.
Why is Dubai in January a must-visit?
---
Ideal weather:The weather in Dubai in January can be described as just right! The winter sun is pleasant, and the clear skies make for an ideal climate for outdoor activities. It is the best season to enjoy adventure sports like skydiving, and desert safari, as well as sightseeing that requires you to be outdoors.
Lesser tourist crowds: Most schools across the world open back in January after winter, which means lesser family tourists. Many companies are also busy being back to business after New Year, which means that you will encounter few tourists in Dubai in January.
Attractions and events galore: The Dubai Shopping Festival is the biggest draw in the city and the entire city welcomes shoppers. Most sightseeing attractions revamp their offerings and add new elements giving you a chance to experience a brand new Dubai in January.
Dubai Weather in January
---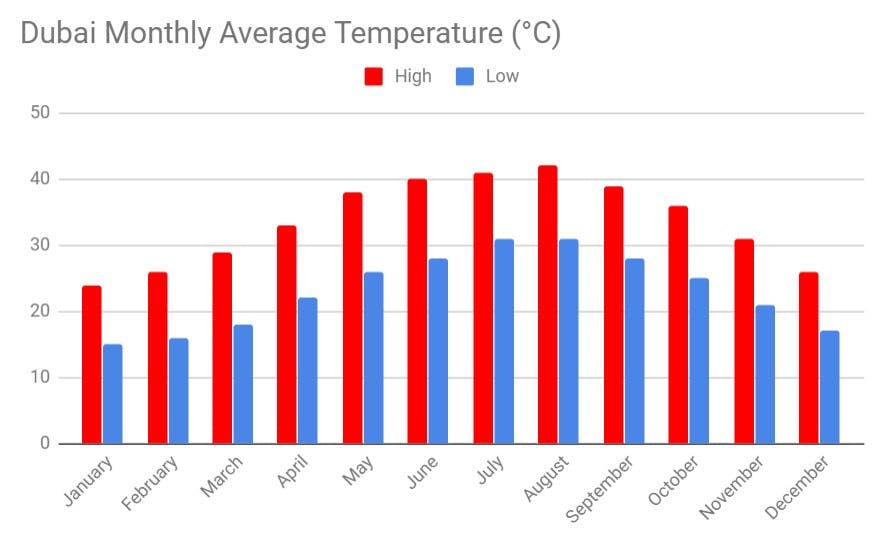 Dubai in January : Things to do
---
Experience a view from the 'top of the world' at the Burj khalifa , the world's tallest building. The late sunrise and the clear skies of January make it one of the best times of the year for incredible views from the observation deck of the tower.
January Timings
Sunrise - 5:30 AM – 8:00 AM
At the top – 8:30 AM – 11:00 PM

1 Sheikh Mohammed bin Rashid Blvd, Dubai
United Arab Emirates
Getting There ›
At 150 meters tall, the Dubai Frame stands at the junction of Dubai's history with the sparkling modern Dubai on one side and the ancient city of Deira on the other. You can go up to the top of the frame and view the breathtaking vistas of the city.
January Timings
Daily, 9:00 AM to 9:00 PM

Al Kifaf, Zabeel Park Jogging Track, Dubai
United Arab Emirates
Getting There ›
Feel like Alice In Wonderland in Dubai Garden Glow . The exhibition is a wonderful mix of light, music and visual grandeur and has come up with exciting themes, creative installations and live entertainment in its season four. Don't miss out on one of the most enchanting exhibitions in the world!
January Timings
Daily, 4:00 PM – 12:00 AM
Zabeel Park, Gate No - 6 & 7 Area - B, Dubai
United Arab Emirates
Getting There ›
Admire the skyline of Dubai while floating in the sky and enjoying a delectable meal. This can happen only at 'Dinner in the Sky ' a unique experiential dining experience where a dining table is suspended 50 meters in the air for a heady combo of dining and sightseeing!
January Timings
Daily from 2:00 PM – 11:30 PM

Watch UAE's only Dolphin Show where a lovely group of Dolphins dance, play ball, jump through hoops and even paint for you! Enjoy other exciting shows with North Fur Seals and Exotic Birds too. If you want more, then swim with the dolphins at Dolphin Planet.
January Timings
Dolphin shows at 11:00 AM, 3:00 PM, 6:00 PM
A traditional Dhow Cruise is a quintessential Dubai experience. Cruising down the marina, enjoying the spectacular sights of Dubai and savoring a multi-course meal is a relaxing and laid-back experience. The pleasant evening weather of Dubai in January elevates the atmosphere!
January Timings
Daily, 8:30 PM – 10:30 PM
Deira Creek Opposit to Radisson Blue Hotel
Deira, Dubai, United Arab Emirates
Getting There ›
Plummet down 13,000 feet for a thrilling lifetime experience during a tandem skydive! Dubai offers some of the best panoramas in the world and the weather in January is clear with high visibility and low humidity, offering a dive window all day long. What are you waiting for?
January Timings
Daily from 10:00 AM to 9:00 PM
Want to head to the desert but cannot imagine sweating it out in the heat? Go on an evening desert safari in January, and you will need to carry a sweater for warmth! Enjoy the dune adventure sports and a feast at the camp with traditional Bedouin activities to boot.
January Timings
Daily from 8:30 AM to 10:00 PM, overnight Desert Safari – 4:00 PM – 9:00 AM
Get a bird's eye view of the Dubai desert 4,000 feet above the sky in a hot air balloon. Watch the sun rise over the horizon lighting up the dunes offering a surreal view of the desert and its wildlife. Catch a ride before it closes in March.
January Timings
Daily from 4:30 AM – 7:00 AM
Winters in Dubai are the best time for outdoor sports. Get an adrenaline rush by gliding along the world's longest zipline and reach breakneck speeds of almost 150 kilometers an hour. Situated just half an hour from Dubai city's proper, this experience ought to make it to your bucket list.
January Timings
Wednesday to Sunday from 9:00 AM to 5:00 PM
Dubai in January : Events to Look Out For
--- DUBAI SHOPPING FESTIVAL
26th December – 28th January
Every shopaholic must mark their calendar for the Dubai Shopping Festival. The retail festival takes over the entire city with offers and sales raining down, especially for fashion, perfumes, and gold jewelry. The city also organizes exciting events like fashion shows and fireworks show. The month-long festival is the best time to revamp your wardrobe with the latest styles and trends. BURJ KHALIFA SUNRISE
September – March
Enjoy the breathtaking views of the sunrise and cast its golden light on the glittering city of Dubai. The sun rises later than the rest of the year in January, and the best place to catch the sunrise is from the 124th Floor of the tallest building in the world – Burj Khalifa. The invigorating sight is bound to make you hungry, and you can kick-start your day with a yummy breakfast. CIRQUE DE SOLEIL
4th January – 16th January
The world-famous, Cirque du Soleil, is now in Dubai too. Inspired by the movie Avatar, the show beckons audience to prepare for a new chapter that promises to transport them to the exotic other-worldly planet of Pandora. This universe manifests through breathtaking visuals, heart-stirring music, death-defying acts and breath-taking acrobatics. QUOZ ARTS FEST
26th Janurary - 28th January
The Quoz Arts Fest has been taking place for the last 6 years, pulling in scores of artists and art enthusiasts for 2 days of sheer artsy fun. There are hands on workshops, thought-provoking performances, and tour galleries through the compound. You'll also find live music, buskers, dance performances and a convoy of the city's best local food truck concepts.
Dubai in January : 5-day Itinerary
---
5 Days in Dubai Itinerary
Dubai January Essentials
---
Dubai Weather in January
Dubai enjoys a pleasant weather in January. The average temperature hovers around 25°C during the day with clear skies and dips to an average of 15°C at night. There is little humidity with the bright winter sun shining for almost 11 hours a day. The weather is similar to a European summer and ideal for outdoor activities.
Where to Stay in Dubai during January
Dubai welcomes all types of tourists, so whether you are a backpacker or luxury seeker the city has accommodation to suit your budget –
5 & 4 star Hotels - One & Only The Palm, Grosvenor House Dubai, Nikki Beach Resort & Spa, Jumeirah Al Qasr and Waldorf Astoria Palm Jumeirah
Budget Hotels - Aloft City Centre Deira, Form hotel, Al Seef, Al Bandar Rotana,Rove Dubai Marina and Mariott Hotel Al Jaddaf
Hostels - At the top, Backpacker 16, Hey Beach, Top of Marina, The Top One, Central Dubai
What to Pack for Visiting Dubai in January
If you are off for a trip to Dubai in January here is what you should pack: protective outdoor gear like sun cap, sunglasses and summer coat as it can be bright and sunny during the day; indoors are always air-conditioned wherever you go so carry a light cardigan or sweater; comfortable walking shoes and sunscreen protection. If you are going on a desert safari carry scarves for protection against wind.
Getting Around Dubai in January
The Dubai Public Transport system has developed extensively over the recent years and offers tourists multiple means of getting around the city. The public transport is managed by the RTA and includes the Dubai Metro, Tram, Bus and the Marine Taxi.
The Dubai Metro has two lines (Red and Green) with 49 stations. The Dubai tram runs from Al Sufouh to Jumeirah Beach Residences and has 11 stations. Bus is a popular mode of transport and more than 1,500 buses connect the city extensively. Water transport is very popular in Dubai and the RTA runs the Dubai Water Taxi servicing 43 stations and Dubai Ferry with over 5 routes.
Dubai in January - Must Try Delicasies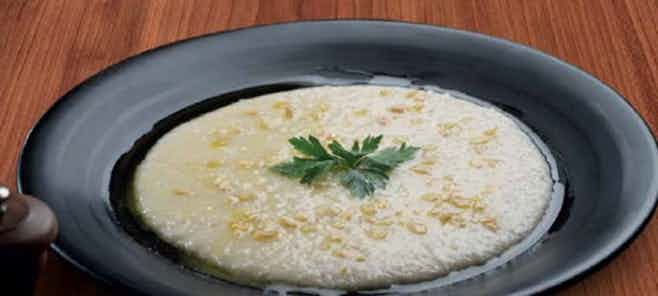 Al Harees
Harees is a creamy concoction of mutton and wheat and seasoned with salt, which is diligently simmered for hours on fire. The hearty pudding is a traditional Emirati dish and often served at weddings, festivals and especially during the holy month of Ramzan.
Where to eat: Seven Sands, The Beach Kabsa
The fragrant 'Kabsa' is Arabic comfort food; the mixed-rice dish is made with long-grained rice, vegetables and an assortment of meats like mutton, chicken, shrimp and even fish. A hot plate of spicy kabsa is perfect to beat the cold nights of Dubai in January.
Where to eat: Al Marhabani, Umm Suqeim Luqaimat
Any Emirati will vouch for the sweet goodness of Luqaimat. The small dumplings made of wheat are fried until they are crunchy and golden and then slathered in sugar or date syrup. No one can stop at one!
Where to eat: Logma, Boxpark Samak Mashwi
You cannot come to Dubai and not eat seafood! The Samak Mashwi is a delicious grilled fish that is marinated in special spices and served with aromatic white rice. The sizzling meal is often made with the fresh catch of the day.
Where to eat: Al Fanar, Al Majaz Waterfront Arabic Coffee
UNESCO confirms that when you sip a cup of Arabic Coffee, you appreciate an intangible cultural heritage of the Arab states! The hot drink is intrinsically woven in the Arab culture, and there is nothing better than a hot coffee to warm the chilly evenings of Dubai in January.
Where to eat: SIKKA Cafe
Tips for Visiting Dubai in January
---
The sea can be a bit cold early in the morning as the sun rises only at 7 AM in January. If you like swimming then choose to go a bit later or swim at sunset and get spectacular photographs of the sun setting on the sea.
The weather in Dubai in January can be compared to European Summers and you can use that as a thumb rule to find appropriate clothing and other essentials you may require.
UAE is hosting the Asian Football Confederation Asian Cup in January 2019 and Dubai will be hosting 11 matches in its Al-Maktoum Stadium. Plan to watch teams like Japan, South Korea, Iran, and India play live.
Dubai hosts several racing competitions in January and speed-maniacs might want to witness them live. Some of these competitions are the Hankook 24H Endurance Motor Race, Dubai Motorbike Festival, Waterbike Racing at DIMC and UAE Wooden Powerboat Championship.
Explore Dubai By Months
---
Planning to Visit Dubai in January?
---
For more Dubai information, here are some helpful quick links!