Home to several historic buildings, beautiful museums, luxurious parks, quaint concentric canals, an intriguing nightlife, and pleasant weather, Amsterdam is among Europe's most popular tourist destinations and offers a little bit of something for everyone! The capital city of Netherlands, Amsterdam gets its name from the river Amstel around which a dam was constructed. The city features several 17th-century canals and waterways which are on the UNESCO World Heritage List. Read on to plan your visit to Amsterdam for the trip of a lifetime!
What makes Amsterdam in March special??
---
Spring & Sunshine : March heralds the start of spring in Amsterdam and the cold winter mornings fade away gradually to give way to more sunshine and warmth as the days go by which makes it an excellent time to visit the city and enjoy the pristine gardens and walkways.
Lesser Crowds : March isn't exactly the prime season for tourists in Amsterdam so you can explore the city at your own pace without any hurry. You'll be able to visit the major attractions of the city without spending an awfully long time waiting for tickets or feeling claustrophobic because of large crowds.
Events Galore : Amsterdam is witness to plenty of fun events that take place in March and participating in these could be a great way to explore the culture of the city. You could sample the local fare, groove to live music and interact with a bunch of locals while making memories for life.
Amsterdam in March Weather
---
The onset of Spring in Amsterdam ensures that the average temperature in March is around 6°C with about 4 hours of sunshine in a day which gradually increases towards the month end. Beware of the high humidity in the air though, along with the chill weather, there may be quite a few rains in March.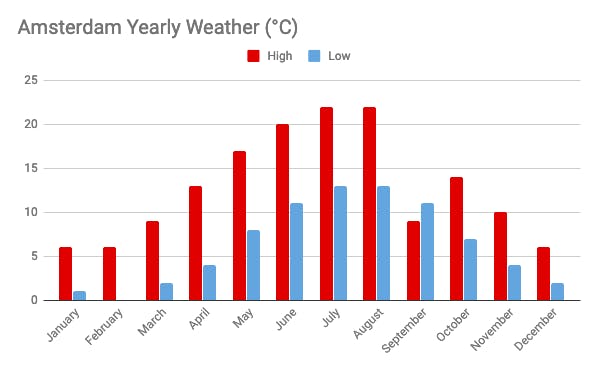 Amsterdam in March : Things to do
---
The Rijksmuseum is Amsterdam's most iconic national museum which houses an incredible collection of artifacts that reflect 800 years of Dutch history and include paintings of Van Gogh and Rembrandt. March 2019 will see the museum celebrate Rembrandt's 350th death anniversary with exhibitions and special events devoted to his legacy.
March Timings
Daily 9:00 AM to 5:00 PM
Amsterdam's labyrinth of canals has secured a mention in UNESCO World Heritage List. If you'd like to cruise along these channels and revel in the breathtaking architecture, you can choose to alternate between an hour-long sail during the day, or a romantic tour in the evening replete with 4-course dinner and drinks, or a candlelight setting!
March Timings
Cruise Timings depend on Tour chosen

The Van Gogh Museum introduces you to some of the most timeless works of art by the master painter Van Gogh himself an it's pure delight to witness the masterpieces. Combine this tour with a cruise along the canals, lunch at another museum, and cherish the delights of the Rijksmuseum museum with these passes!
March Timings
Sunday to Thursday and Saturday 9 AM to 6 PM
Friday 9 AM to 9 PM
Anne Frank House and Walking Tour
The Anne Frank House is an infamous historical monument that stands as a grim reminder of the atrocities of war. The hiding place of Anne and several others during the Nazi era, the house was preserved at the behest of Otto Frank, Anne Frank's father who returned from the Auschwitz concentration camp.
March Timings
Tours start daily at 10:30 AM & 2:00 PM
Visit Amsterdam around the end of March and plan a trip to Keukenhof to experience a riot of colors welcoming you: There are large hectares of tulips, daffodils and other spring flowers. Here, you can stroll around, take selfies with the colorful backdrop, and revel in the natural beauty and fragrance of millions of flower buds.
Read all about visiting Keukenhof Tulip Fields and plan your day trip better.
March Timings
Tours start daily 8:00 AM to 7:30 PM
The Red Light District of Amsterdam is world-famous for its spectacular nightlife. A visit to this cosmopolitan would be incomplete without a trip here. Explore Warmoesstraat and Chinatown along with other local breweries with your own local guide to show you around. You can also see the famous Weighbuilding at Nieuwmarkt with this pass.
March Timings
9:00 AM – 8:30 PM
Night tour: 9:00 PM – 11:00 PM
For beer lovers, the Heineken Experience is an absolute must on the itinerary. This tour takes you to the brewery that was once responsible for manufacturing all of their products. At present, you can explore some pieces of equipment and go on a behind the scenes tour of a brewery. You can even craft your own Heineken to top the experience off!
March Timings
Monday to Thursday 10:30 AM to 7:30 PM
Friday to Sunday 10:30 AM to 9:00 PM
The Amsterdam Icebar is an exotic place made entirely of ice right down to the walls, furniture, and the 35-tonne bar counter! The perfect place to party and let your hair down while enjoying some complimentary drinks, you can also enjoy a 3D ride across a virtual ice land for an added thrill!
March Timings
Sunday to Thursday 11:45 AM to 1 AM
Friday to Saturday 11:45 AM to 2:40 AM
A stately mansion, The Willet-Holthuysen Museum is home to period architecture and has a ballroom, conservatory and dining room that is reminiscent of the riches of the 17th century. Currently managed by the Amsterdam Museum, you can opt for an audio tour to know about the grandeur of the house and its former occupants.
March Timings
Daily 10:00 AM to 5:00 PM
The Amsterdam Dungeon is a unique entertainment that promises to keep you on the edge of your seat, definitely not for the faint-hearted. With a theatrical cast, special lightings, sound effects, and brilliant storytelling, it's an ultimate experience of thrill and horror, and you can choose your pick of a spine-chilling themes to experience.
March Timings
Sunday to Thursday: 11:00 AM to 6:00 PM
Friday-Saturday: 11:00 AM to 7:00 PM
Amsterdam in March : Events to Look Out For
--- National Restaurant Week
11th-27th March, 2019
Organized since 2005, the National Restaurant Week is a treat for every foodie! The event sees more than 100 restaurants participating, and you can savor some of the most exceptional 3-course meals at the listed restaurants at affordable rates. Keukenhof: Sounds of Holland
23nd-27th March, 2019
The Keukenhof flower festival will be inaugurated mid-March with an opening week performance of Dutch music: shanty choirs, barrel organs, and marching bands to celebrate the theme of the year: Flower Power. With a display of more than 7 million dazzling tulips, the garden is a sight to behold! Open Tower day
23rd March, 2019
On this chosen day, all the famous towers in Amsterdam city welcome tourists and locals alike to witness some panoramic views of the city from atop the several viewpoints which are usually barred to the public. The 2019 edition will see about 28 historic and modern towers participate. Amsterdam Coffee Festival
1st-3rd March,2019
The Amsterdam Coffee Festival is a riot of activities for coffee connoisseurs the world over. The festival is home to delicious food, great art, incredible live music, and of course, some fabulous cups of coffee with different sessions on coffee tasting, roasting, and mixology. Amsterdam Wine Festival
22nd – 24th March, 2019
The Amsterdam Wine Festival celebrates the harvest of grapes with more than 300 different wines, workshops, masterclasses, and live bands. Join the enthusiastic wine lovers for a quiz or discuss the perfect food and wine pairings with top chefs and experts all over the world. Seafood Festival Amsterdam
31st March -1st April, 2019
The Amsterdam Seafood Festival celebrates the belief that all goodies come from the sea! With the first of its kind seafood festival that features food stalls, music, and drinks, you can buy the best quality oysters, lobsters, and mussels or taste some of the classic Dutch dishes here.
Amsterdam in March : 5-day Itinerary
---
Amsterdam Essentials
---
Amsterdam Weather in March
Amsterdam in March experiences a transitional climate with average temperatures ranging around 6-7°C. As the weather transitions from winter to spring, expect frequent showers. Despite the cold and damp, the city will get a good amount of sunshine to brighten up the days as it gets progressively longer through the month.
What to Pack for Visiting Amsterdam in March
The weather in Amsterdam during March is relatively cool so it'd be a good idea to keep jackets and woolens with you. A waterproof windbreaker, boots, and an umbrella are also essential in case of rains, which is a striking possibility. Also keep a stole or hat and gloves in case you decide to go walking and biking along the iconic bridges and canals in the city.
Getting Around Amsterdam in March
Amsterdam is well-connected by public transport which is usually the most convenient option for travelers. The metro system connects Amsterdam from the central station to the other districts while the extensive network of buses and trams connect all the internal neighborhoods within the city. However, be wary as cash is not accepted on these buses and you can only pay by debit/credit/public transport chip cards. It would be a good idea to purchase a Holland Pass for an economical way to explore Amsterdam, The Hague, Rotterdam, and Utrecht. It allows skip the line access to about 100-odd attractions across Holland and a detailed guide book too!
Amsterdam in March - Must Try Delicasies
---
There's no better way to explore the culture of a city than by sampling the local cuisine and eating your heart's out! Here's a list of dishes that are centric to the Dutch way of life:
Stroopwafel
The most famous Dutch pastry the world over, The Stroopwafel is made of baked waffle batter but filled with a sweet and sticky syrup known as the stroop. While they're available in most supermarkets and stores, the ones at Landskroon Bakery or Albert Cuyp Market are some of the best goodies there are! Kibbelling
The Kibbelling is a deep-fried, batter-coated white fish, cut into small chunks and served with garlic sauce. It's a snack that can be munched on at any time of the day. If you end up craving for some fish, then head over to Vishandel Albert Cuyp for a plate of these calorie-laden goodies. Oliebollen
The Oliebollen is a traditional Dutch dish that is made by the natives in the winter months and is integral to New Year's Eve. Akin to donuts, the Oliebollen is a deep-fried ball of sweet dough that is served with powdered sugar. The sweetmeats available at Gebakkraam Verwijk are highly recommended by the locals. Kroket
A deep-fried roll of meat covered in breadcrumbs, the Kroket is the original variant of the English Croquette. Served with sliced bread or hamburgers, the meat used in kroket varies from veal, beef, chicken or shrimps. You can enjoy some great tasting krokets at Febo, a walk-in snack bar famous all over Amsterdam. Stamppot
Made of mashed potatoes and garnished with vegetables like kale, carrots, endive or sauerkraut, the Stamppot is a classic Dutch dish traditionally served during the winters and enjoyed best with sausages. Moeders Restaurant offers a sumptuous plate of the Stamppot, and you can choose the sides to your liking.
Tips to visit Amsterdam in March
---
Try scheduling your trip towards the end of March. Most of the popular events in March are scheduled during the end of the month when it's relatively warmer so ensure that your bucket list is well-researched and you're not disappointed when you're traveling.
The off-season means that there will be fewer tourists so you'll have ample time to spend at the most iconic places and walk around leisurely within the city square as you admire the architecture
A lot of local events may keep springing up in March so talk to the guides and hotel receptionist to explore the cultural side of Amsterdam
Amsterdam in March will prove to be a photographer's paradise as the ambient weather conditions, and natural beauty will be the perfect background to your pictures so keep your camera handy at all times!
Ready to Visit Amsterdam?
---
Here's more of what you can explore in Amsterdam.